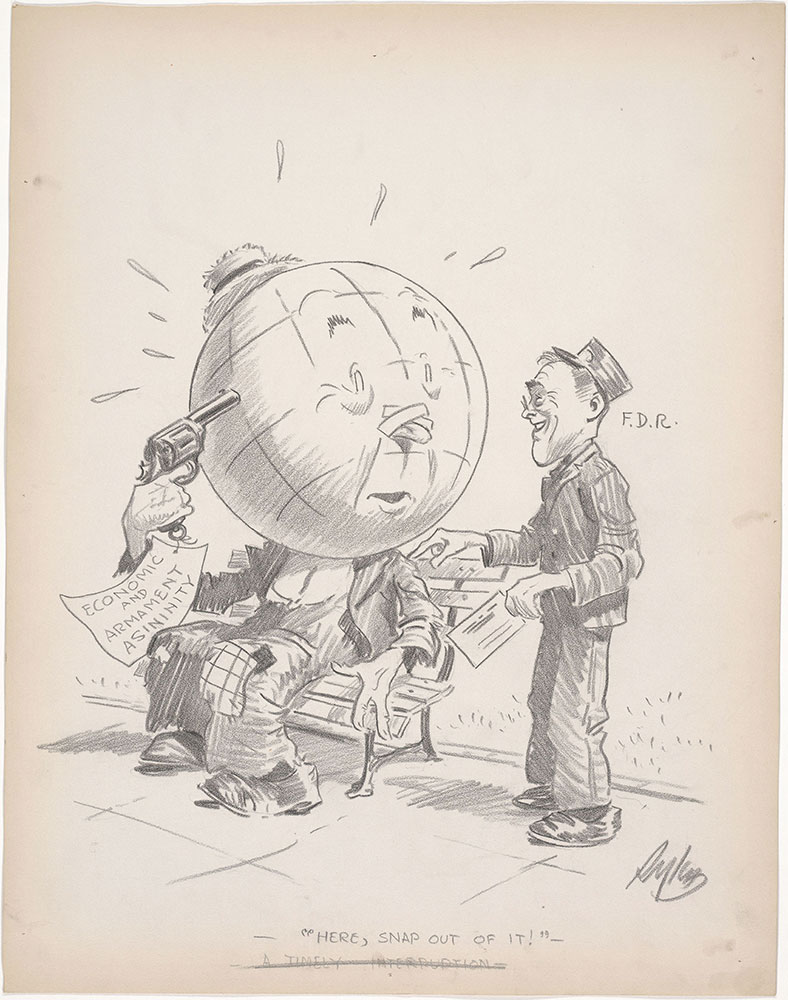 Item Info
Item No: PIXC00026
Title: Here, Snap Out Of It!
Media Type:
Cartoons (Commentary)
Source:
Print and Picture Collection
Notes:
"Economic and Armament Asininity"
"F.D.R"
Crossed out title is: "A Timely Interruption"
Notes:
Created for Evening Public Ledger, date unknown.
Notes:
"When in 1939 war did break out between Germany on the one hand, and Britain and France on the other, President Franklin D. Roosevelt dutifully invoked the Neutrality Acts. However, he believed that this was a fundamentally different war from World War I. Germany, he believed (and most Americans agreed with him) was in this case a clear aggressor. Roosevelt therefore sought to provide assistance for the Allies, while still keeping the United States out of the war. He began by asking Congress to amend the neutrality laws to allow arms sales to the Allies. Later on, after German forces overran France, the president asked Congress for a massive program of direct military aid to Great Britain—an initiative that Roosevelt dubbed 'Lend-Lease.' In both cases the legislature agreed to FDR's proposals, but only after intense debate."
Source for the quote: Moser, John and Lori Hahn. "From Neutrality to War: The United States and Europe, 1921-1941". EDSITEment: the best of the humanities on the web, The National endowment for the humanities website.
Link: edsitement.neh.gov/curriculum-unit/neutrality-war-united-states-and-europe-1921-1941
Country:
Country:United States
State/Province:Pennsylvania
Creator Name:
Sykes, Charles Henry, 1882-1942 - Artist