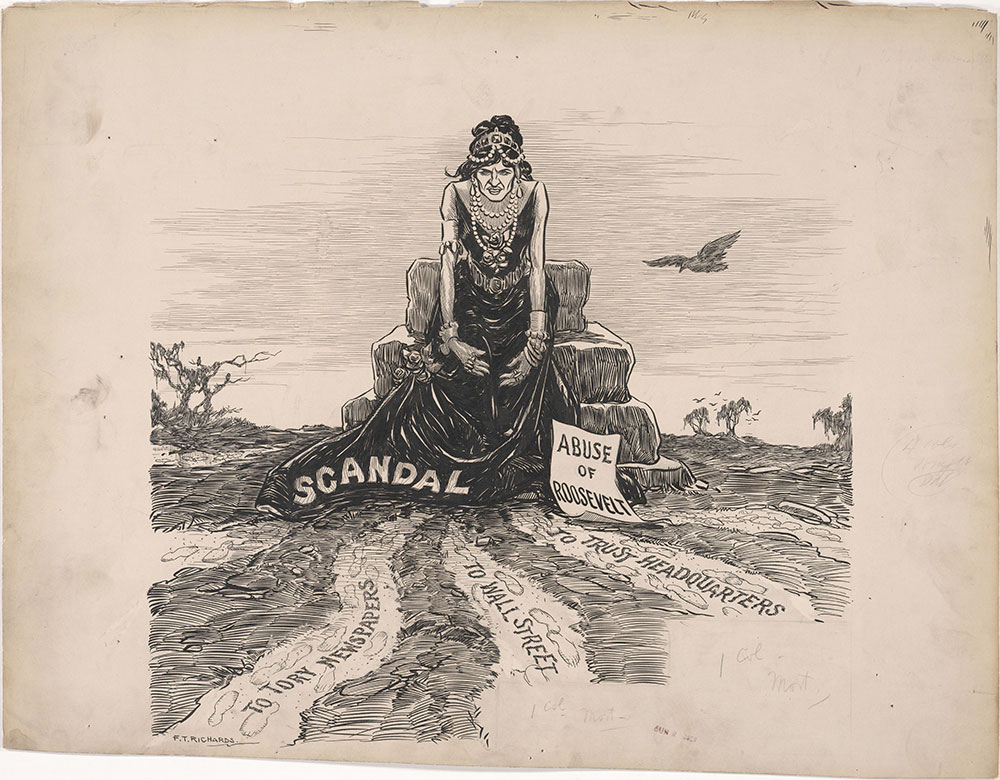 Item Info
Item No: PIXC00084
Title: Scandal
Creation Date:
7/2/1913
Publication Date:
7/2/1913
Media Type:
Cartoons (Commentary)
Source:
Print and Picture Collection
Notes:
During his 1912 run for president, Teddy Roosevelt was met with particularly harsh criticism from the special interests, political bosses and machine politics he was actively campaigning against. Newspapers opposed to his progressive reforms were especially vocal and published scathing attacks. Some viewed these attacks as an "unqualified personal abuse of Roosevelt."[1] The footmarked paths show where this scandalous behavior can be traced back to.
Source:
[1] United Association of Journeymen Plumbers, Gas Fitters, Steam Fitters, and Steam Fitters Helpers of the United States and Canada. (1912). Plumbers, Gas and Steam Fitters Journal, Vol. 17, pg. 32. Retrieved from: http://books.google.com/books?id=M0QtAQAAMAAJ&pg=PA1#v=onepage&q&f=false
Country:
Country:United States
State/Province:Pennsylvania
Creator Name:
Richards, Frederick T. (1864-1921) - Artist