Dieses Noten=Büchlein gehöret Jacob Hunsicker Singschüler in der Birckenseher Schule geschrieben d. 29ten Jenner 1783
Fraktur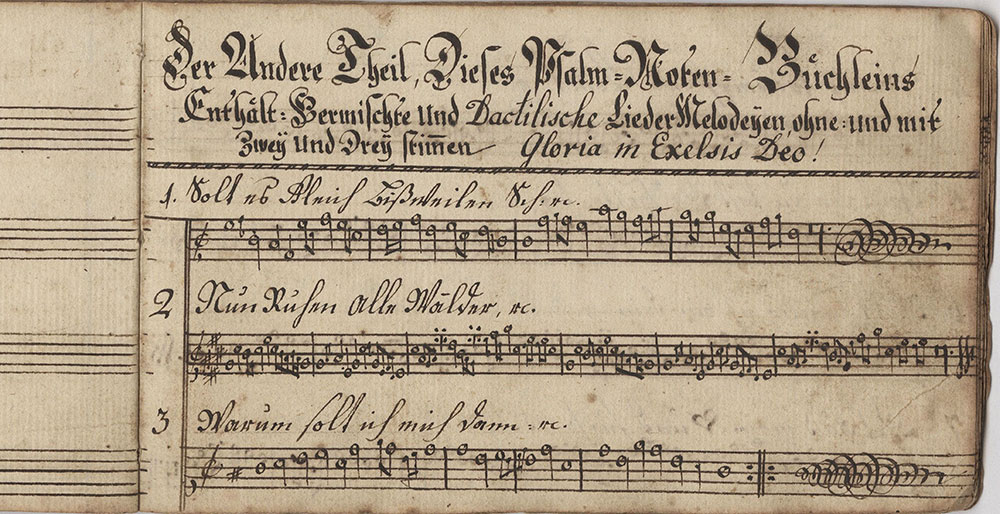 Item Info
Item No: frkma23000
Title: Dieses Noten=Büchlein gehöret Jacob Hunsicker Singschüler in der Birckenseher Schule geschrieben d. 29ten Jenner 1783
Creation Date:
1/29/1783
Scripts/Text:
Fraktur; German script; Roman script
Language:
German
Physical Description:
14 leaves
Material:
Laid paper; watercolor; ink; thread; wrapper
Transcription:
[Image]
Der Andere Theil Dieses Psalm=Noten=Büchleins\ Enthält=Vermischte Und Dactilische Lieder Melodeÿen ohne und mit \ Zweÿ und Dreÿ Stimmen Gloria in Exelsis [sic] Deo!

1. Solt es Gleich Bißweilen Sch [einen] : rc.
2. Nun Ruhen Alle Wälder, rc.
3. Warum solt ich mich dann [grämen] : rc

Translation:
[Image]
The other part of this Psalm Tune Booklet contains mixed and dactylic Lieder melodies with and without 2 and 3 voices. Glory to God in the Highest!

1. Should It Sometimes Seem, etc. [words by Christoph Tietze (1641-1703)]
2. Now All the Woods Are Sleeping , etc. [Words by Paul Gerhardt, 1653]
3. Why Should I Sorrow [Words by Paul Gerhardt (1607-1676)]

Category:
Tune Booklet (Notenbüchlein)
Media Type:
Manuscripts
Source:
Rare Book Department
Notes:
Binding:

Paper Wrapper
Biographical Note:
Johann Adam Eyer (1755-1837) was active from 1779-1820 as a schoolmaster and Fraktur artist. He was also a musician. Eyer rewarded his students with beautifully decorated certificates of merit, created writing sample copy books, and introduced what is thought to be the first decorated tune booklets, for use by his students. He taught principally in Bucks, Chester, Lancaster, Northampton, and Monroe Counties (Pennsylvania).
Flyleaf:

Recto of front flyleaf signed twice by Jacob Hunsicker: Christian name in Roman script, and the surname in German script.
Full Title Translated:
This Tune Booklet Belongs to Jacob Hunsicker, Singing Scholar at the Perkasie School, Written 29 January 1783

N. B. See also FLP B-1037.
Physical Description:

1 [2] 3-12 [13-16 staves only] 17-26 [27-28]
Scope and Content:
This appears to be the first tune booklet of Johann Adam Eyer's that contains a flower on the titlepage. The first part of the tune booklet contains the simplest of the Psalm tunes taken from D. Ambrosius Lobwasser's Psalmen Davids : Psalms 1, 5 (N. B. Psalm 64 used same tune as Psalm 5), 6, 8, 9, 19, 23, 24 (62, 95, 111), 25, 29, 30 (76, 139), 31 (71), 33 (67), 34, 37, 38, 39, 42, 43, 47, 65, 66 (98, 118), 74 (116), 77 (86), 84, 89, 91, 97, 100, 101. The other part of this Psalm Tune Booklet contains mixed [metrical] and dactylic [metrical] Lieder melodies with and without 2 and 3 voices.
The idea of creating such a booklet to teach children the rudiments of musical notation so that they could learn to sing the melodies used in the hymns at church service seems to have been Eyer's. The hymnals used by their parents contained no music, but only the hymn verses with the indication "Mel." and the title of the hymn tune to which the congregation would sing the text. The metrics, and topic of the poetry usually determined which melodies were chosen.
Eyer's concept was a practical and useful one, and inspired many other teachers to create tune booklets for their students in which only the melody line of frequently used hymn tunes was written out. Each scholar had a booklet, usually 10.2 x 16.5 cm in size. The teacher created a title page describing the purpose of the booklet, and containing the name of the student, the school attended, and the date of the title's creation. The empty spaces on the title page were filled in with flowers, birds, and other elements common to Pennsylvania German decorated Fraktur. These titles are absolutely beautiful, and probably inspired the singing scholar to greater endeavors as he learned how to read music and sing the tunes that either the instructor or he would copy into the booklet.
The "singing schools" or singing classes flourished in Bucks, Lehigh, Montgomery, Chester and Berks Counties, Pennsylvania from about 1787 to 1845. Singing became a part of the school curriculum, and "singing schools" became popular.
Title:
The title is hand-drawn; hand-colored; hand-lettered. The text in Fraktur and German script within a circle is in the center of the document. Two lines are written along the sides. The entire document is framed by a decorative border.

Associated Names:
Tietze, Christoph, 1641-1703
Provenance:
Brenner, Scott Francis, 1903- 1991
Hunsicker, Jacob
Bibliography:
Cory M. Amsler, ed., Bucks County Fraktur (Kutztown, Pa.: Pennsylvania German Society, 1999), 256-261.
"Johann Adam Eyer" in Russell D. and Corinne P. Earnest, Papers for Birth Dayes: Guide to the Fraktur Artists and Scriveners (East Berlin, Pa.: Russell D. Earnest Associates, 1997), 2nd ed., vol. 1, 256-260 (biography).
Mary Jane Lederach Hershey, "The Notenbüchlein Tradition in Eastern Pennsylvania Mennonite Community Schools," in Cory M. Amsler, ed., Bucks County Fraktur (Kutztown, Pa.: Pennsylvania German Society, 1999), 115-149.
Marburger Gesang=Buch zur Uebung der Gottseligkeit in 649 Christlichen und Trostreichen Psalmen und Gesängen Hrn. D. Martin Luthers. und anderer Gottseliger Lehrer, Ordentlich in XII. Theile verfasset, Und mit nöthigen Registern auch einer Verzeichniß versehen, unter welche Titul die im Anhang befindlichen Lieder gehörig: Auch zur Beförderung des so Kirchen= als Privat= Gottesdienstes, Mit erbaulichen Morgen= Abend = Buß= Beicht= und Communion=Gebätlein vermehret.
Germanton, Gedruckt und zu finden bey Christoph Saur, 1762.
Neu=vermehrt=und vollständiges Gesang=Buch Worinnen sowohl die Psalmen Davids, nach D. Ambrosii Lobwassers Uebersetzung hin und wieder verbessert... Welche anjetzo sämtlich in denen Reformirten Kirchen der Hessisch=Hanauisch=Pfältzisch=Pensylvanischen...Landen zu singen gebräuchlich...Vierte Auflage. Philadelphia: zu finden bey Ernst Ludwig Baisch, in der zweyten Strasse, nahe bey der Rees=Strasse, 1774.
Frederick S. Weiser, "IAE SD, the Story of Johann Adam Eyer (1755-1837)," in Ebbes fer alle-Ebber, Ebbes fer Dich (Breinigsville, Pa.: Pennsylvania German Socidety, 1980), 437-506.

Creation Place Town/Township:
Creation Place Note:As per inscription on title page
Region/County:Bucks
City/Town/Township:Perkasie School, Hilltown Township
State/Province:Pennsylvania
Image Dimensions Width:
9.5 cm
ShelfMark:
FLP Borneman Ms. 23a
Creator Name:
Eyer, Johann Adam, 1755-1837, Attributed to - Decorator
Eyer, Johann Adam, 1755-1837, Attributed to - Scrivener