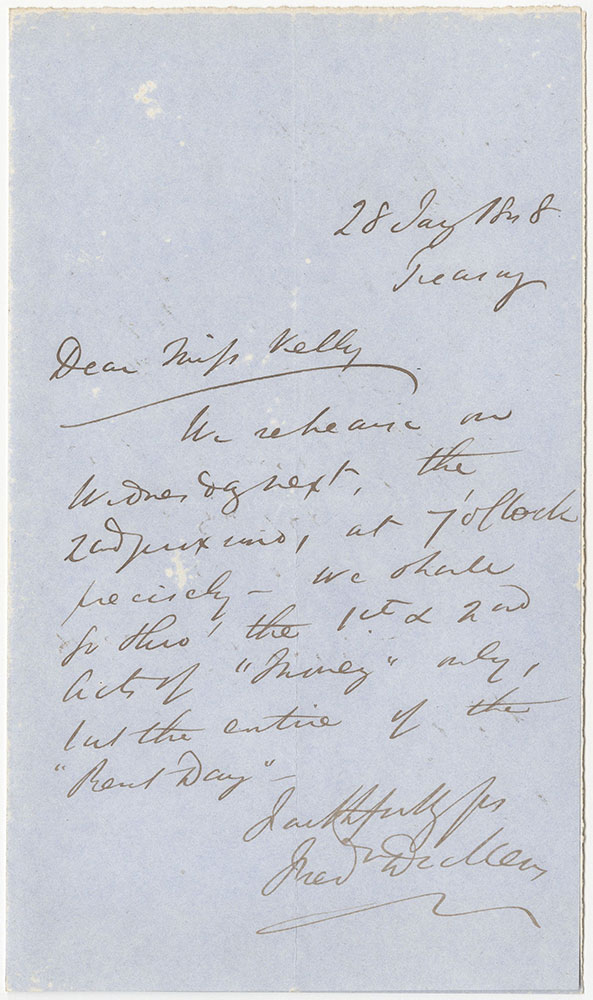 Item Info
Item No: cdc505401
Title: ALs to Miss Kelly
Accession Number:
97-0743
Physical Description:
[1] page
Material:
Paper
Transcription:
Edinburgh/Saturday Night, New Year's Day 1848
My Dear Alfred,
I am vexed beyond measure to think that you will have been to York unavailingly, and that you will have thought us faithless, before I can hope to set you right by this note.
Kate was taken very ill on the way from this place to Glasgow, on Tuesday—a miscarriage, in short, coming on, suddenly, in the railway carriage. When we got to the House where we got to the House where we were engaged to stay, she was immediately undressed and put to bed—couldn't go to the Demonstration—and remained in bed 'till late next night. Moreover I was obliged to call in a famous Doctor. She seemed quite will until this morning, when she was again taken violently ill—another famous Doctor called in—and again got into bed with all speed. I must be in town on Tuesday morning. The famous Doctor No. 2 says she cannot possibly travel tomorrow, but may come by the Express Train on Monday (that by which I purposed going from you) as he thinks by that time she will be quite right.
I don't know what to give my Godson that will be useful to him, until he gets a little older. Pending that decision, I went out this morning as it was New Year's Day (Kate was with me, and was taken ill in the street) and bought Helen a little bracelet, which, if I see you at York on Monday, I will be you to take to her. If I don't, I will send it back from Town. Kate joins in loves to you and Helen and the boy, and Fanny and Burnett, and is full of regret and grief that we can't come. But I tell her we will come, Please God, another time,
In great haste ever affecy.
[Charles Dickens]
MssDate:
28 Jay [?] 1848
Media Type:
Letters
Source:
Rare Book Department
Notes:
CD had originally planned to meet Alfred at Marlton. He must have asked Alfred to meet him at York instead.
The second famous DR refers to James Young Simpson (1811-70;DNB) Professor of Midwifery and first user of ether and chloroform in child-birth.
Recipient:
Kelly, William, 1791-1855
Provenance:
Holmes 12/30/1992, Benoliel Fund.
Bibliography:
Volume 5, p. 221 , The Letters of Charles Dickens, edited by Madeline House & Graham Storey; associate editors, W.J. Carlton…[et al.]
City/Town/Township:
City/Town/Township:[London]
Creation Place Note:Treasury
Call Number:
DCL D556f 1848-01-28
Creator Name:
Dickens, Frederick William, 1820-1868 - Author