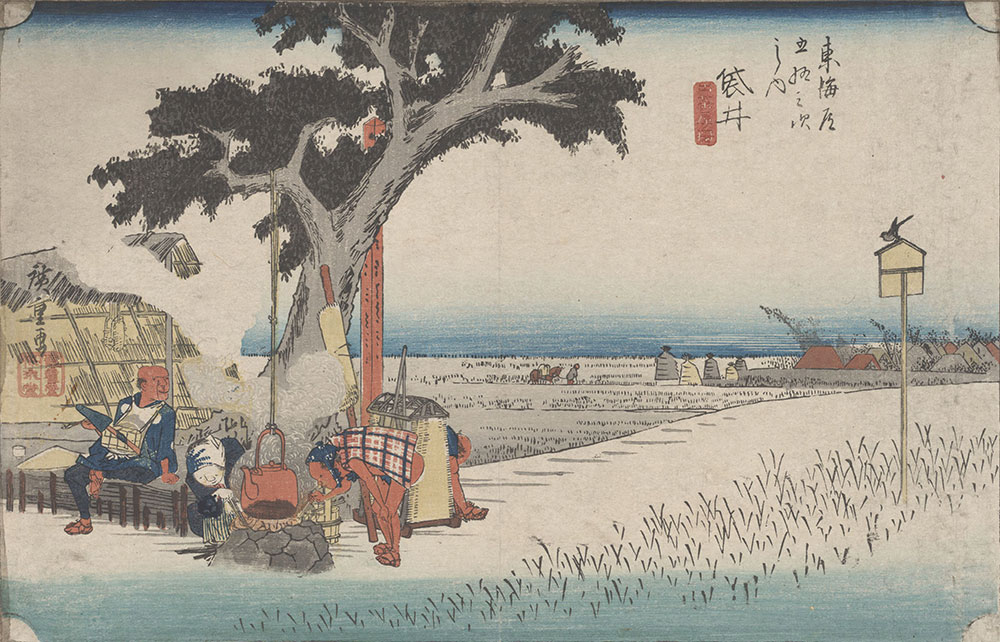 Item Info
Item No: facjp00047
Title: No.28 "Outdoor Tea-stall at Fukuroi" from the series Fifty-Three Stations of the Tokaido
Media Type:
Woodcuts
Source:
Print and Picture Collection
Notes:
"Fukuroi was six miles down the highway from Kakegawa. Here Hiroshige pictured not the town itself, but the fields just outside it. The straw shelter at the left is one of the outside teahouses that were to be found here and there along the highway. "
from "The Fifty-Three Stages of the Tokaido by Hiroshige", Tokyo, Japan. Heibonsha Ltd., Publishers, 1960. plate 28
https://catalog.freelibrary.org/Record/125651
Notes:
"In the early 1830's, Hiroshige's first landscape prints appeared. He subsequently became the leading landscape artist and was especially known for his series on the Tokaido highway that connected Edo (present day Tokyo) with Kyoto. The earliest and most famous of these, generally known by the name of the publisher as 'Hoeido ban Tokaido' (Tokaido published by Hoeido), was issued from 1832-33. Hiroshige III stated sixty years later that Hiroshige's designs are after sketches he took during a journey to Kyoto, however, most of his designs are undoubtedly inspired from illustrations in guide books like the Tokaido meisho zue ('Gathering of Views of Famouse Sightss alonf the Tokaido;' 1797) and even this alleged journey cannot be verified."
from "Japanese Woodblock Prints: Artists, Publishers and Masterworks 1680-1900", Andreas Marks. Tuttle Publishing. p.132
Notes:
note card with print
Station 28
Fukuroi: An Outdoor Tea Stall. The proprietress is heating water for tea in a large kettle that hangs from a branch. The traveler sits waiting on a bench; his palanquin bearers are takng a rest. Details like the smoke rising from the fire under the kettle and the swallow perched on the signboard at right give credence to the placid rusticity of the scene. Today the road is a highway full of speeding trucks.
Bibliography:
https://catalog.freelibrary.org/Record/125651
https://catalog.freelibrary.org/Record/370941
https://catalog.freelibrary.org/Record/703108
https://catalog.freelibrary.org/Record/2030739
https://www.hiroshige.org.uk/Tokaido_Series/Tokaido_Great.htm
Image Dimensions Width:
35 cm
Call Number:
Woodblock Prints - The Fifty-three Stations of the T?kaid? Road
Creator Name:
Hiroshige, Utagawa, 1797-1858 - Artist
Subjects