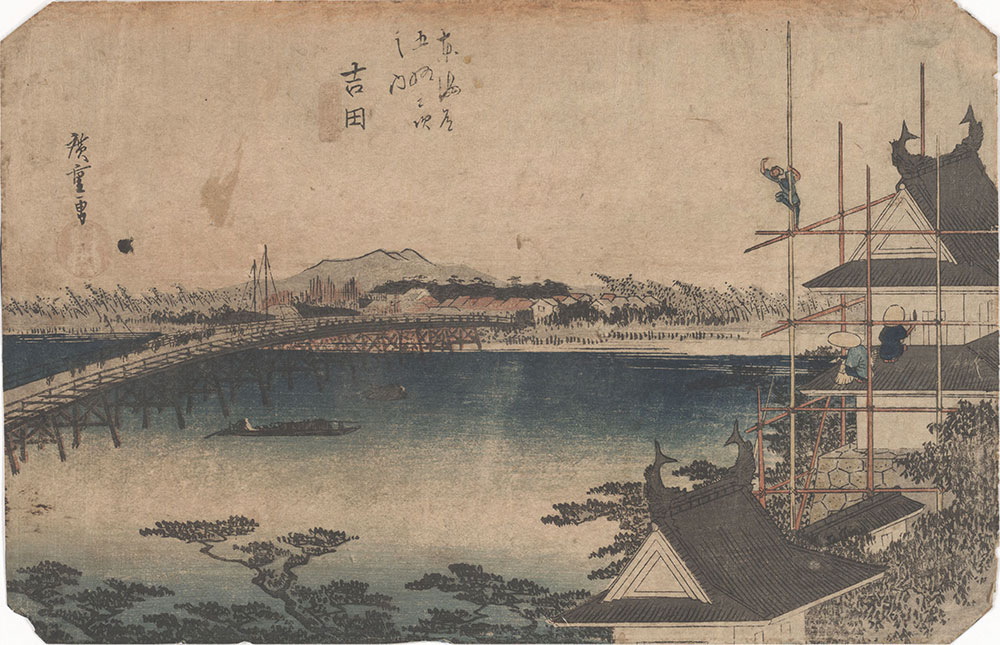 Item Info
Item No: facjp00050
Title: No. 35 "Yoshida: The Toyokawa River Bridge" from the series Fifty-Three Stations of the Tokaido
Media Type:
Woodcuts
Source:
Print and Picture Collection
Notes:
"In the early 1830's, Hiroshige's first landscape prints appeared. He subsequently became the leading landscape artist and was especially known for his series on the Tokaido highway that connected Edo (present day Tokyo) with Kyoto. The earliest and most famous of these, generally known by the name of the publisher as 'Hoeido ban Tokaido' (Tokaido published by Hoeido), was issued from 1832-33. Hiroshige III stated sixty years later that Hiroshige's designs are after sketches he took during a journey to Kyoto, however, most of his designs are undoubtedly inspired from illustrations in guide books like the Tokaido meisho zue ('Gathering of Views of Famouse Sightss alonf the Tokaido;' 1797) and even this alleged journey cannot be verified."
from "Japanese Woodblock Prints: Artists, Publishers and Masterworks 1680-1900", Andreas Marks. Tuttle Publishing. p.132
Notes:
"Yoshida, about four miles northwest of Futakawa, was not merely a Tokaido station, but an important castle town. Hiroshige's print shows the castle in the forground and the long bridge over the Toyokawa River in the background. The castle is undergoing repairs, and the workmen have set up a scaffolding of a type along which Japanese carpenters scurry with amazing equilibrium even today. Yoshida is now the city of Toyohashi."
from "The Fifty-Three Stages of the Tokaido by Hiroshige", Tokyo, Japan. Heibonsha Ltd., Publishers, 1960. plate 35
https://catalog.freelibrary.org/Record/125651
Notes:
Hand witten note with print
Yoshida, on the 53 Stations of Tokaido. Scaffolding rises beside the river, where workmen are repairing a castle roof.
By Hiroshige. Signed. 1796-1858
Bibliography:
https://catalog.freelibrary.org/Record/125651
https://catalog.freelibrary.org/Record/370941
https://catalog.freelibrary.org/Record/703108
https://catalog.freelibrary.org/Record/2030739
https://www.hiroshige.org.uk/Tokaido_Series/Tokaido_Great.htm
Image Dimensions Width:
35.5 cm
Call Number:
Woodblock Prints - The Fifty-three Stations of the T?kaid? Road
Creator Name:
Hiroshige, Utagawa, 1797-1858 - Artist
Subjects