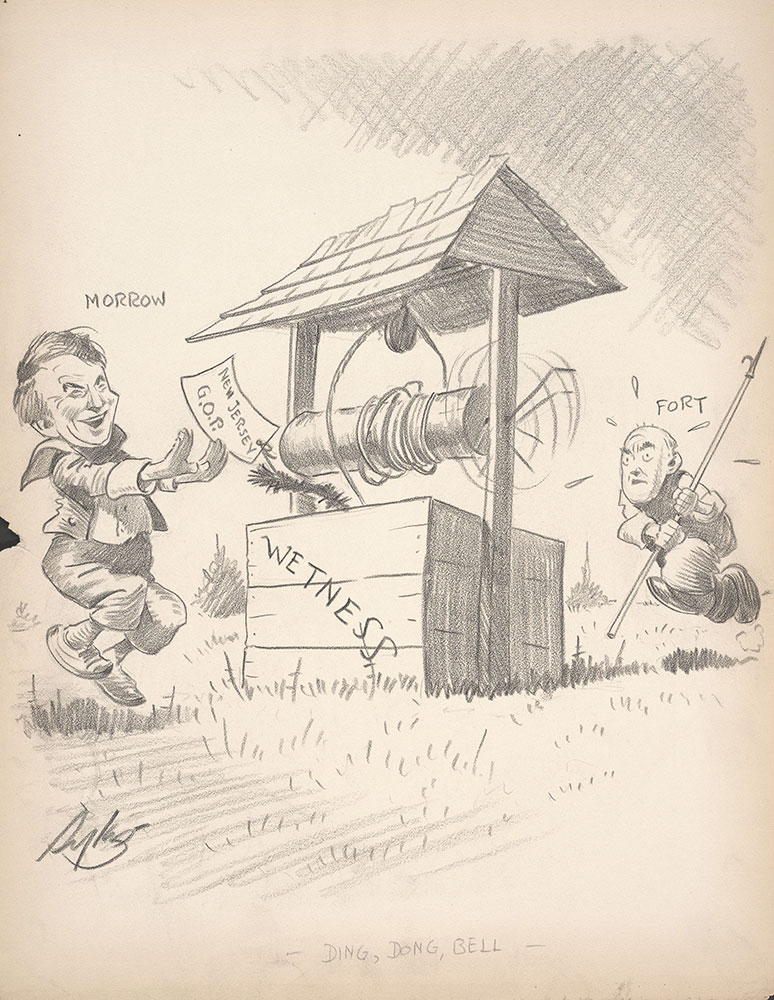 Item Info
Item No: pixc01008
Title: Ding, Dong, Bell
Additional Title: Ding, Dong, Bell
Media Type:
Cartoons (Commentary)
Source:
Print and Picture Collection
Notes:
Rhyme that informed the cartoon:
Ding Dong Bell / Pussy's in the well. / Who put her in? / Little Tommy Lin. / Who pulled her out? / Little Tommy Trout. / That a naughty boy was that / To drown poor little pussy cat / Who never did him any harm / But killed the mice in his father's barn.
-unknown author
Morrow and Fort both ran for Senate under the Republican party, Morrow as the "wet" candidate, and Fort as the "dry" candidate.
"There was just one issue which was seriously considered. It was whether the Republican party of New Jersey would accept the prohibition policy laid down by Mr. Morrow in his first speech at Newark. The verdict of the voters is unmistakable. They want Mr. Morrow and they want his way of dealing with prohibition....Mr. Morrow has carried every county in the State. He has carried the dry strongholds of the countryside and the wet cities."
Sources:
Yannucci, Lisa. (2014). "Ding Dong Bell." Mama Lisa's World: International Music and Culture. Retreived from: http://www.mamalisa.com/?t=hes&p=1495
"Morrow's Victory in New Jersey." The Reading Eagle 19 June 1930: 20. Print. Retrieved from: http://news.google.com/newspapers?nid=1955&dat=19300619&id=-ewxAAAAIBAJ&sjid=oeIFAAAAIBAJ&pg=2173,3765707
Creator Name:
Sykes, Charles Henry, 1882-1942 - Artist