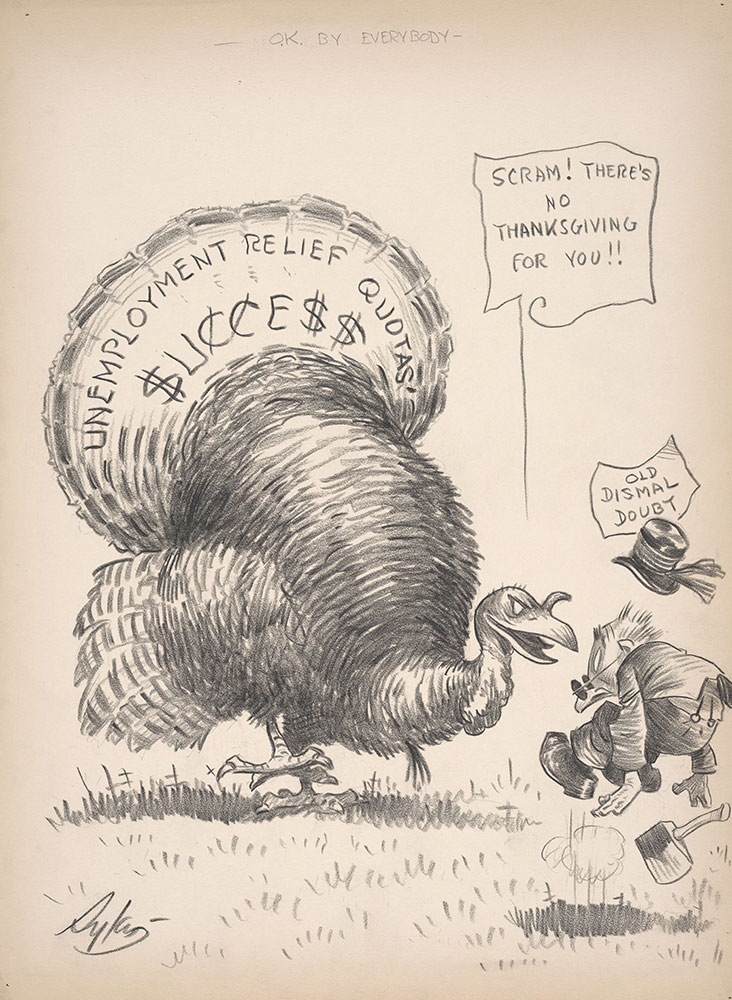 Item Info
Item No: pixc01015
Title: O.K. By Everybody
Additional Title: O.K. By Everybody
Media Type:
Cartoons (Commentary)
Source:
Print and Picture Collection
Notes:
"The organization of the state CWA followed that of the relief system. The chief administrative officers in each county were the local administrators. Local relief boards and CWA boards were maintained independently of each other. The state officewas divided into several departments, such as Engineering, Comptroller, Research and Statistics, and Personnel, on the same pattern as the federal headquarters in Washington. Quotas were assigned to the counties on the basis of population, unemployment and relief case load."
"Roosevelt signed the Federal Emergency Relief Act on May 12, 1933. The President selected Harry L. Hopkins, who had headed the New York relief program, to run FERA. He gathered a small staff in Washington and brought the state relief organizations into the FERA system. While the agency tried to provide all the necessities, food came first. City dwellers usually got an allowance for fuel, and rent for one month was provided in case of eviction. FERA paid for medicine, some doctor bills, but no hospital costs. Work relief sewing rooms renovated hand-me-down clothing. One of the most significant FERA policies was to grant relief without discrimination. Blacks, especially in the South, who had never before gotten anything from government, suddenly found themselves eligible for federal relief and moved onto the rolls."
Sources:
Henwood, James N. J. "Experiment in Relief: The Civil Works Administration in Pennsylvania, 1933-1934." Pennsylvania History 39.1 (1972): 50-71. file:///C:/Users/7patron.PUBLIC/desktop/23589-23428-1-PB.pdf.
Bernstein, Irving. "Americans in Depression and War." The U.S. Department of Labor Bicentennial History of the American Worker. Ed. Richard B. Morris. Washington, D.C.: Superintendent of Documents, U.S. Government, 1976. Chapter 5. http://www.dol.gov/dol/aboutdol/history/chapter5.htm.
Creator Name:
Sykes, Charles Henry, 1882-1942 - Artist