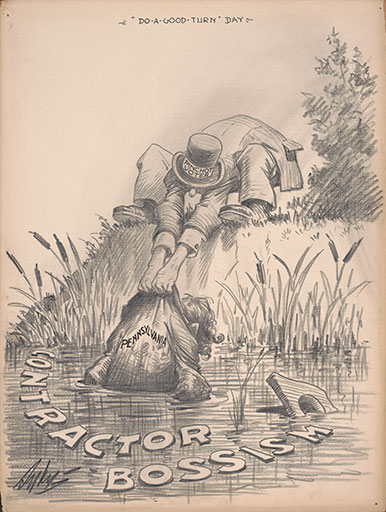 Item Info
Item No: pixc01044
Title: Do-A-Good-Turn Day
Additional Title: Do-A-Good-Turn Day
Publication Date:
5/16/1922
Media Type:
Cartoons (Commentary)
Source:
Print and Picture Collection
Notes:
The Mellon financial empire controlled Pittsburgh; Joseph Grundy, wealthy textile manufacturer from Bristol and head of the powerful Pennsylvania Manufacturer's Association, controlled pockets of power throughout the state and figured seriously in the party; and Vare ran Philadelphia....In 1922 all three groups were set back when Gifford Pinchot, the renowned Progressive and bitter foe of bossism and corruption, captures the gubernatorial chair with his "Square Deal" campaign.
Astorino, Samuel J. "The Contested Senate Election of William Scott Vare." Pennsylvania History Vol. 28 No. 2. 1961. 20 January 2015. file:///C:/Users/7patron.PUBLIC/desktop/22800-22639-1-PB.pdf
...Alter is tied up by bonds of political and personal gratitude to the men responsible for the Treasury scandals....No such house cleaning as is needed can be made by any man tied up with the men who have been playing ducks and drakes with the State's money. Pinchot is free from all this.... The moral of all this is that the voters who want a house cleaning must vote for the nomination of Pinchot.
"Pinchot is Sure to Win if All His Supporters Vote." Evening Public Ledger (Philadelphia, PA). 1922, May 16: p. 8.
Bibliography:
Sykes, Charles Henry. "Do-A-Good-Turn Day." Evening Public Ledger (Philadelphia, PA). 1922, May 16: p. 8.
Creator Name:
Sykes, Charles Henry, 1882-1942 - Artist