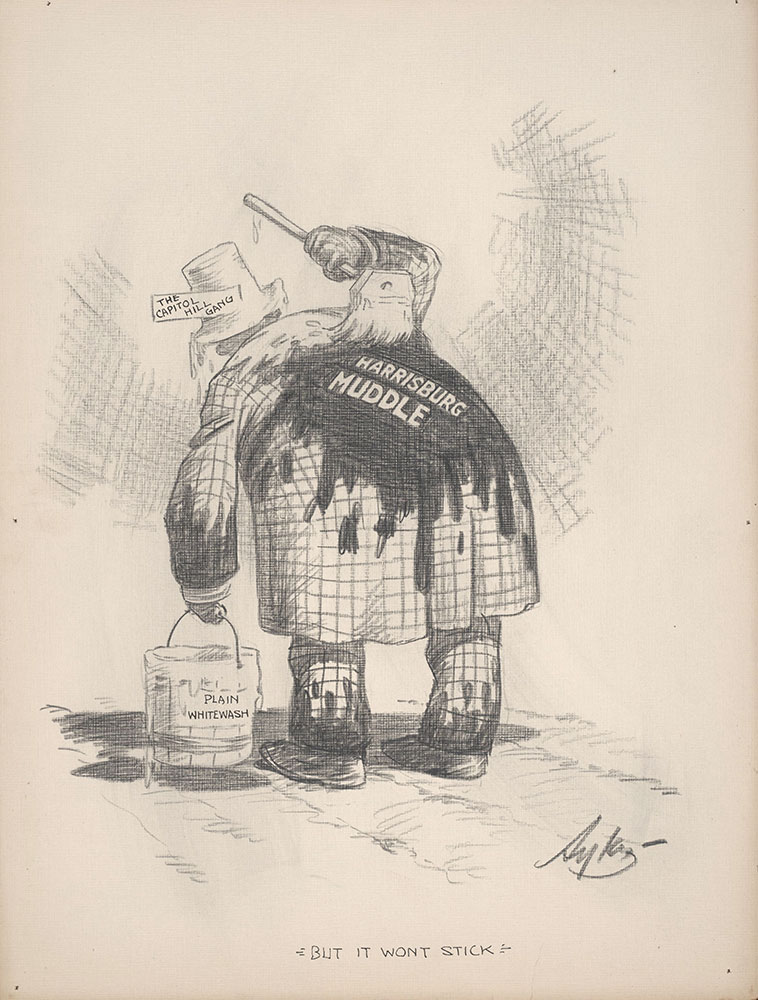 Item Info
Item No: pixc01068
Title: But It Won't Stick
Additional Title: But It Won't Stick
Publication Date:
5/9/1922
Media Type:
Cartoons (Commentary)
Source:
Print and Picture Collection
Notes:
"The Philadelphia Inquirer today says editorially: "We wonder if the Republicans of Pennsylvania are in a frame of mind that will permit them to submit without protest to the dumping upon them of any candidate selected in the secrecy of a political back room. We doubt it….They are aware of the doings of what is known as the Capitol Hill gang. They know of the extravagances that have plunged the Commonwealth into financial engagements that cannot now be met. They look with dubious eyes upon an Auditor General in the person of the present State Treasurer, Mr. Snyder, paying fees to Lieutenant Governor Beidleman. No crime may have been committed, but the appearances are anything but pleasing. They have an idea that it would be well to clean up matters in Harrisburg; to put Pennsylvania on a strictly business basis…." The general opinion that the Beidleman campaign will be called off now that the bosses say they will have nothing to do with a defensive fight is spreading to all parts of the State."
"[Article Title Unreadable]" The Evening News [Harrisburg, PA] 6 March 1922: 15. Print. Accessed 10 Feb. 2015. http://www.newspapers.com/newspage/58017422/
Bibliography:
Sykes, Charles Henry. "But It Won't Stick." Evening Public Ledger (Philadelphia, PA). 1922, May 9: p. 8.
Creator Name:
Sykes, Charles Henry, 1882-1942 - Artist