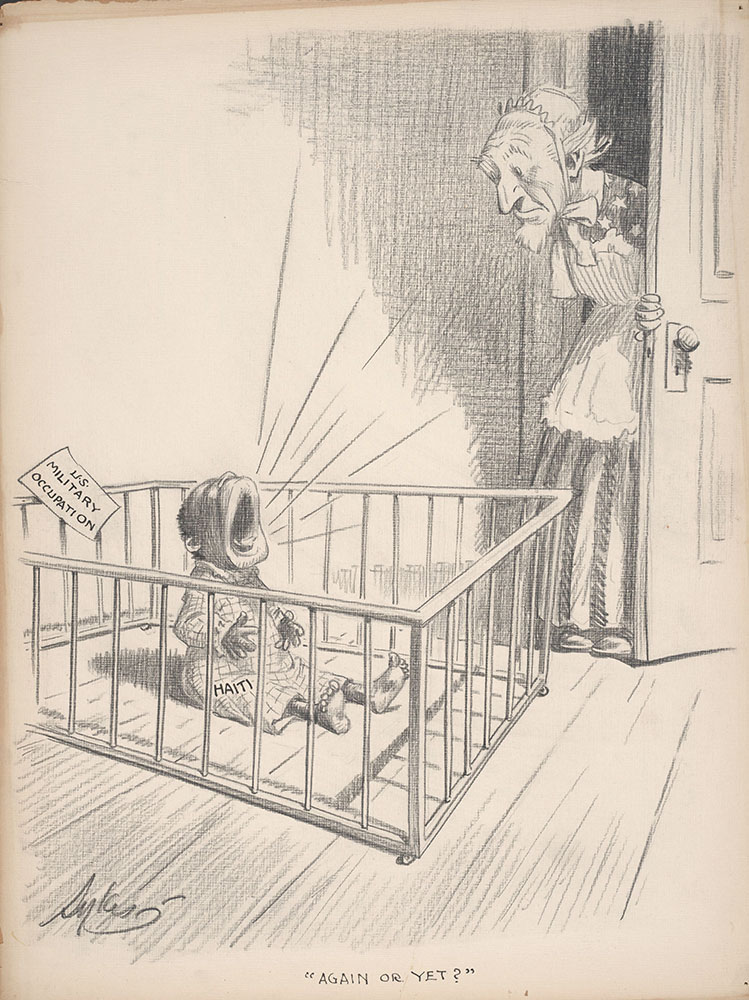 Item Info
Item No: pixc01157
Title: Again or Yet?
Additional Title: Again or Yet?
Publication Date:
5/11/1921
Media Type:
Cartoons (Commentary)
Source:
Print and Picture Collection
Notes:
"As a result of increased instability in Haiti in the years before 1915, the United States heightened its activity to deter foreign influence. In 1914, the Wilson administration sent U.S. Marines into Haiti. In 1915, President Wilson sent the U.S. Marines to Haiti to prevent anarchy.
"The invasion ended with the Haitian-American Treaty of 1915. The articles of this agreement created the Haitian Gendarmerie, essentially a military force made up of U.S. citizens and Haitians and controlled by the U.S. Marines.
"Some of the Gendarmerie's more unpopular policies—including racial segregation, press censorship and forced labor—led to a peasant rebellion from 1919 to 1920. The U.S. Senate sent an investigative committee into Haiti in 1921 to examine claims of abuse, and subsequently the U.S. Senate reorganized and centralized power in Haiti."
"U.S. Invasion and Occupation of Haiti, 1915–34." Milestones: 1914–1920. U.S. Dept of State Office of the Historian. Web. 17 Apr. 2015. https://history.state.gov/milestones/1914-1920/haiti.
Bibliography:
Sykes, Charles Henry. "Again or Yet?" Evening Public Ledger (Philadelphia, PA). 1921, May 11: p. 8.
Creator Name:
Sykes, Charles Henry, 1882-1942 - Artist