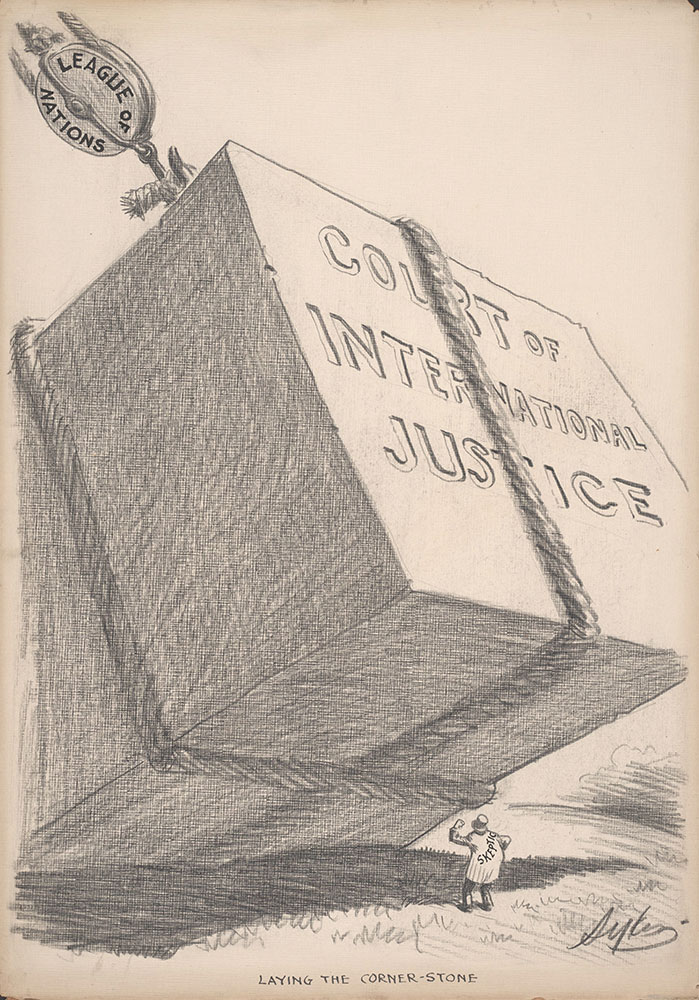 Item Info
Item No: pixc01186
Title: Laying the Corner-Stone
Additional Title: Laying the Corner-Stone
Publication Date:
9/16/1920
Media Type:
Cartoons (Commentary)
Source:
Print and Picture Collection
Notes:
"The dazed world of August, 1914, wondered bitterly what had become of The Hague machinery for safeguarding peace. Much had been heard of a permanent court of international arbitration, but in the hour of crisis humanitarian expectation had been blasted and the robes of justice tirned to militant khaki.
"But now that civilization is picking up the strands of sanity once more and that the preliminary draft of a plan to try international disputes is before the council of the League of Nations, a decent regard for facts is decidedly in order....
"The court is to consist of fifteen members, eleven judges and four deputy judges... The functions of the court will be to interpret treaties, to settle any questions of international law, to give judgment upon the existence of any fact which would constitute a breach of international obligation, to determine the extent of reparations in given cases and to interpret its own sentences."
"New World Court Avoids Hague Tribunal Pitfalls." Evening Public Ledger (Philadelphia, PA). 1920, September 16: p. 8.
Bibliography:
Sykes, Charles Henry. "Laying the Cornerstone." Evening Public Ledger (Philadelphia, PA). 1920, September 16: p. 8.
Creator Name:
Sykes, Charles Henry, 1882-1942 - Artist