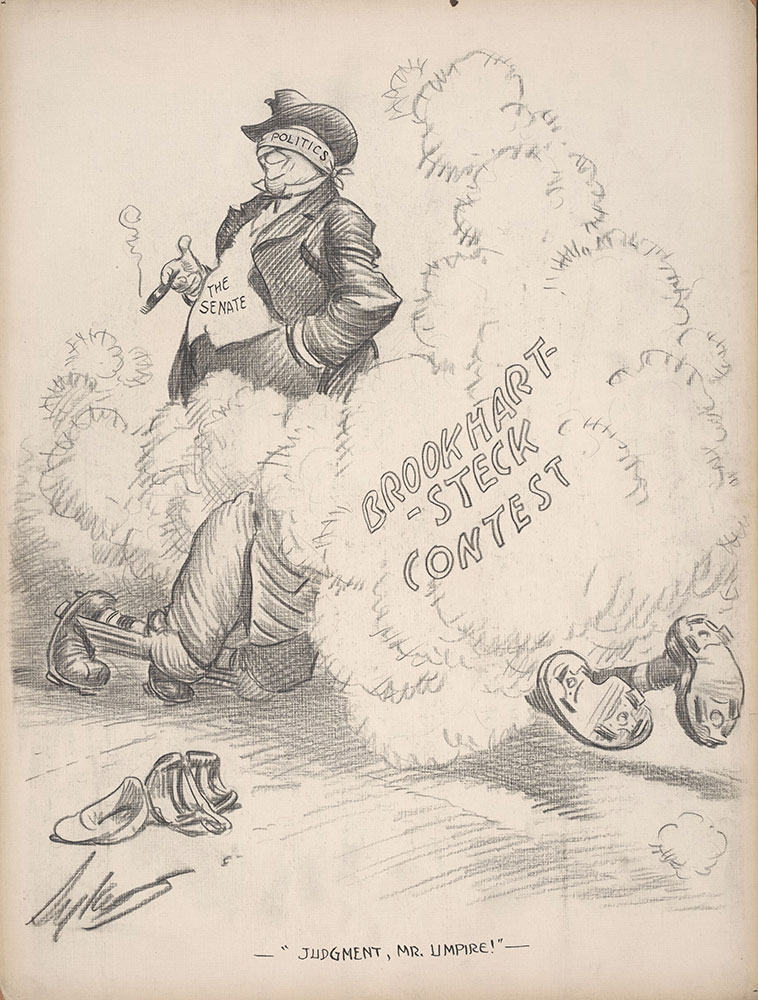 Item Info
Item No: pixc01197
Title: Judgment, Mr. Umpire!
Additional Title: Judgment, Mr. Umpire!
Media Type:
Cartoons (Commentary)
Source:
Print and Picture Collection
Notes:
Running for the full term in 1924, incumbent Brookhart narrowly triumphed over the Democratic challenger, Daniel F. Steck. When it became clear that the winning margin would be very small, both Republican and Democratic state chairmen requested a recount. Completed in late November, a recount showed Brookhart the winner by a plurality of less than 800 votes, and he was declared elected. Senate Republicans retaliated against their insurgent colleagues, excluding from their party conference Brookhart, La Follette, and two other progressive Republicans who had failed to support the Coolidge campaign. Then Daniel Steck served notice that he would challenge Brookhart's seating in March. The Iowa Republican State Central Committee also contested the election, declaring that Brookhart was not a member of the Republican party.
Upon completion of the recount, the majority of the committee on March 29 issued a report finding that, in a four-person race, Daniel Steck had received a plurality of 1,420 votes. Stating that its only objective had been to decide which candidate had won a plurality, the committee's report declared that Smith Brookhart had not been elected and that Steck should be seated. Brookhart's supporters maintained that there was no precedent for the Senate overruling state election laws in reviewing contested elections. On April 12, 1926, in a 45 to 41 vote that crossed party lines, the Senate unseated Smith Brookhart and replaced him with Democrat Daniel Steck.
The forces behind the unusual decision to unseat an incumbent in favor of a contestant are somewhat clarified by a speech that George Norris (Republican-NE), Brookhart's fellow insurgent Republican, delivered: no one had questioned the legitimacy of Brookhart's nomination but that his independent spirit had offended party regulars.
"The Election Case of Daniel F. Steck v. Smith W. Brookhart of Iowa (1926)." U.S. Senate: Art & History Home. Senate Historical Office. Web. Adapted from Anne M. Butler and Wendy Wolff. United States Senate Election, Expulsion, and Censure Cases, 1793-1990. S. Doc. 103-33. Washington, GPO, 1995. 15 May 2015.
Creator Name:
Sykes, Charles Henry, 1882-1942 - Artist