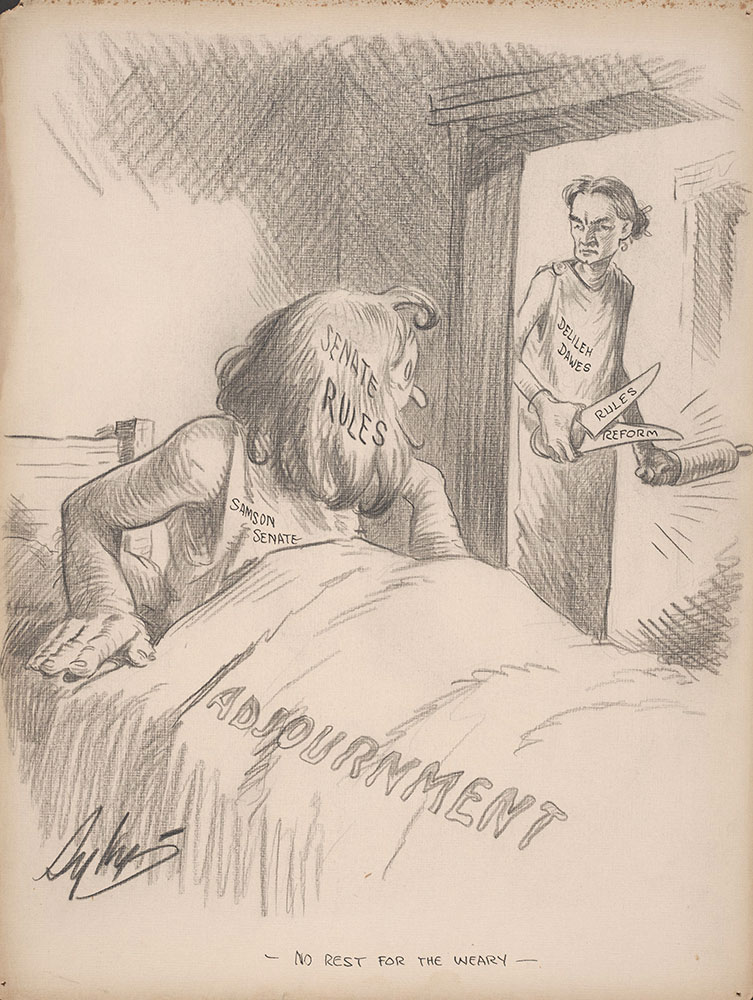 Item Info
Item No: pixc00614
Title: No Rest For the Weary
Additional Title: No Rest For the Weary
Publication Date:
3/31/1925
Media Type:
Cartoons (Commentary)
Source:
Print and Picture Collection
Notes:
"As the Senate's new presiding officer, Dawes addressed himself to "methods of effective procedure," rather than any particular policies or programs. He then launched into an attack on the Senate rules, "which, in their present form, place power in the hands of individuals to an extent, at times, subversive of the fundamental principles of free representative government." The rules of the Senate, he declared, ran contrary to the principles of constitutional government, and under these rules "the rights of the Nation and of the American people have been overlooked."
"Dawes focused his attack on filibusters, which at that time were being carried out most frequently by the small band of progressive Republicans, such as Robert La Follette, Sr., and George Norris, who held the balance of power in the Senate."
"Charles G. Dawes, 30th Vice President (1925-1929)." Senate History. U.S. Senate. Web. 4 Dec. 2015. http://www.senate.gov/artandhistory/history/common/generic/VP_Charles_Dawes.htm.
Bibliography:
Sykes, Charles Henry. "No Rest For The Weary." Evening Public Ledger (Philadelphia, PA). 1925, March 31.
Creator Name:
Sykes, Charles Henry, 1882-1942 - Artist