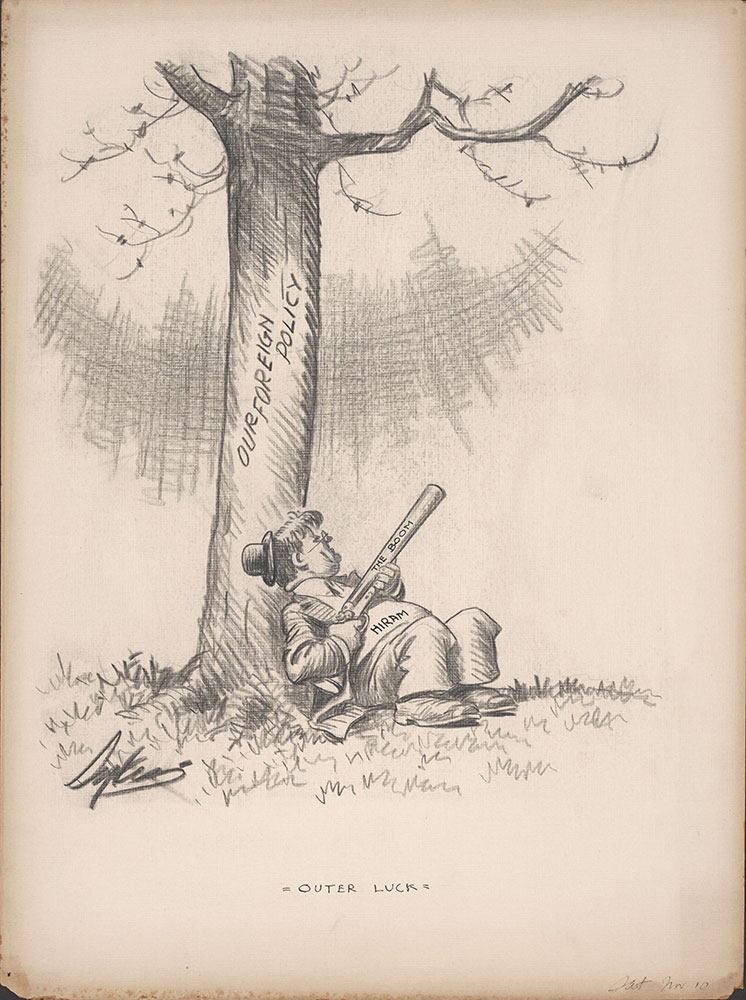 Item Info
Item No: pixc00624
Title: Outer Luck
Additional Title: Outer Luck
Creation Date:
11/10/1923
Media Type:
Cartoons (Commentary)
Source:
Print and Picture Collection
Notes:
Hiram prepares for the boom of his presidential candidacy, leaning against his position on our foreign policy.
"I am against the league of nations and all its subsidiaries membership in which would tend to participation, directly or indirectly, in the league. To take us into the leage court or to involve us in the political struggles abroad, inevitably will draw us into the European maestrom from which we fondly imagined the election of 1920 had delivered us. Of course we would always promote peace and endeavor to prevent war."
Brown, Parke. "Johnson to Race Coolidge." The Chicago Daily Tribune 16 Nov. 1923: 1-2. Print.
"...Ickes saw a potential opportunity for Johnson in the burgeoning issue of entry into the World Court. 'It seems to me that people are again thinking very deeply on the International situation....' Nonetheless, the Court fight provided the perfect opportunity to set the stage for a Johnson presidential bid. 'It may be that the fight you led against the League of Nations will have to be made over again and this time it may be the main issue in the contest for the Republican nomination,' Ickes told Johnson.
Murphy, Kevin. "The Duty to Revolt Progressives and the Election of 1924." Uphill All the Way: The Fortunes of Progressivism, 1919-1929. New York City, 2013. Print.
Bibliography:
Sykes, Charles Henry. "Outer Luck." Evening Public Ledger (Philadelphia, PA). 1923, November 10.
Creator Name:
Sykes, Charles Henry, 1882-1942 - Artist