Lord Jesus, adorn me (Herr Jesus, schmücke mich)
Fraktur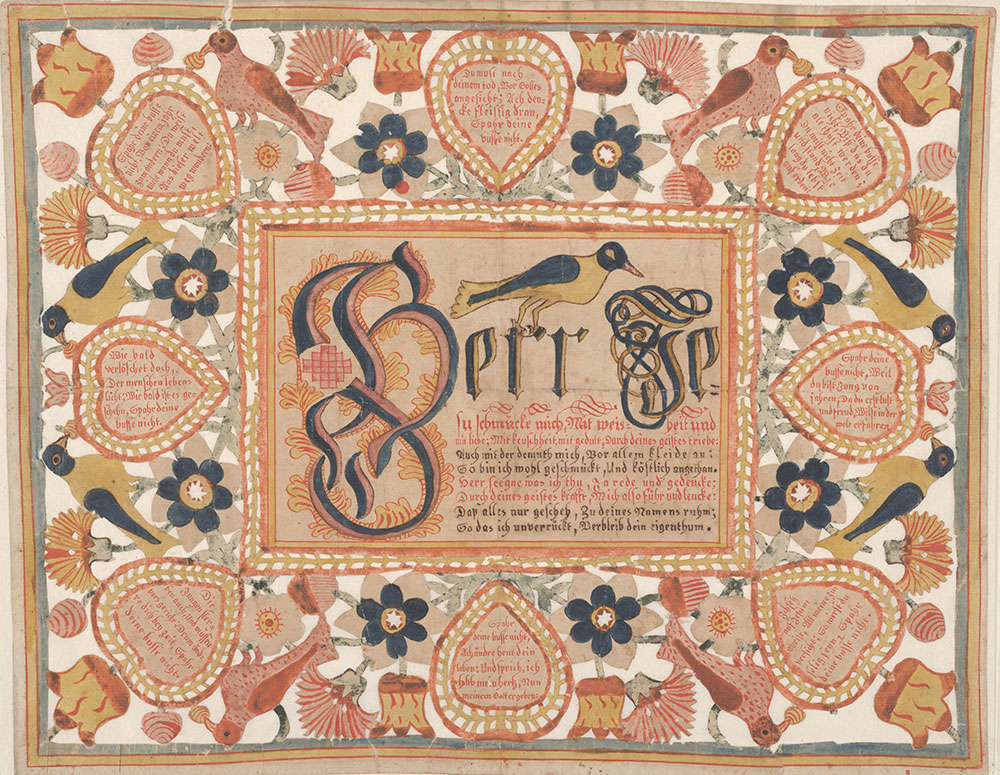 Item Info
Item No: frk00119
Title: Lord Jesus, adorn me (Herr Jesus, schmücke mich)
Scripts/Text:
Fraktur
Language:
German
Weiser Number:
221
Physical Description:
Leaf
Material:
Laid paper; watercolor; ink
Transcription:
Herr Je= \ su schmücke mich, Mit Weisheit und \ mit liebe; Mit Keuschheit, mit gedult, Durch deines geistes triebe: \ Auch mit der Demuth mich, Vor allem kleide an; \ So bin ich wohl geschmückt, Und köstlich angethan. \ Herr seegne was ich thu, Ja rede und gedencke; \ Durch deines geistes Krafft, Mich also führ und lencke: \ Daß alles nur gescheh, Zu deines namens ruhm; \ So das ich unverrückt, Verbleib dein Eigenthum.
[in hearts, beginning in top center]
Du must nach \ deinem tod, Vor Gottes \ angesicht; Ach den= \ cke fleissig dran, \ Spahr deine \ busse nicht.
Spahr deine busse \ nicht; Biß das du \ alt thust werden; \ Du weist nicht Zeit \ und stund, Wie \ lang du lebst \ auf erden:
Spar deine \ busse nicht, Weil \ du bist Jung von \ jahren, Da du erst lust \ und freud, Wilst in der \ Welt erfahren.
Ich setz \ auf Jesum \ Christ, All meine zu= \ versicht; So wirst du \ selig seyn, Spahr \ deine busse nicht.
Spahr \ deine busse nicht, \ Ach ändre heut dein \ leben: Und sprich, ich \ hab mein Hertz, Nun \ meinem Gott ergeben:
Die \ Zungen ster= \ ben auch, Und müssen \ vors gericht; Drum änd= \ re dich bey zeit, Spahr \ deine busse nicht.
Wie bald \ verlöschet doch, \ Der Menschen lebens \ licht; Wie bald ist es ge= \ schehn, Spahr deine \ busse nicht.
Spar deine busse \ nicht; Von einem jahr \ zum andern; Du weist \ nicht wann du must, \ Aus dieser Welt \ weg wandern:
Translation:
Lord Jesus, adorn me with wisdom and with love, with modesty, with patience, through your spirit's power. Dress me especially in humility, I will then be well adorned and beautifully made up. Lord, bless what I do, yes, speak and think. Lead and direct me through your spirit's power, so that everything happens only to your glory, so that I remain your property undisturbed.
[in heart at top center]
After your death, you must go before God's countenance; Oh, think of this diligently, don't spare your repentance.
Don't spare your repentance until you are old; you don't know the time and hours how long you will live on earth.
Don't spare your repentance because you are young in years; because you first want to experience pleasure and joy in the world.
I place all of my hope in Jesus Christ, so you will become blessed. Don't spare your repentance.
Don't spare your repentance; oh, change your life today. And say, I have now given my heart to God.
The tongues also die and must go before the judgment; so change in time, and don't spare your repentance.

How soon man's light of life is extinguished; how soon it has happened. Don't spare your repentance.
Don't spare your repentance from one year to the next; you don't know when you will have to walk away from this world.
Category:
Religious Text
Media Type:
Cutwork
Source:
Rare Book Department
Notes:
Hand-drawn; hand-colored; hand-lettered; cutwork (Scherenschnitt). The central text is within a rectangular frame in the middle of the document, with a cutwork border. A bird is perched on the first word, which is written in large ornate letters. The central frame is surrounded by eight hearts containing additional verses, within cutwork borders. Numerous birds, rosettes, tulips and other flowers adorn the areas between the hearts. The entire piece is framed by a decorative border. The motifs and major elements of the fraktur were formed by cutwork. The text is from a Mennonite hymn found in both the Franconia and Lancaster Conference hymnals.
Associated Names:
Botz, Jacob
Provenance:
Henry S. Borneman
Bibliography:
"Jacob Botz" in Russell D. and Corinne P. Earnest, Papers for Birth Dayes: Guide to the Fraktur Artists and Scriveners (East Berlin, Pa.: Russell D. Earnest Associates, 1997), 2nd ed., vol. 1, p. 111-112.
Creation Place County:
Creation Place Note:Based on artist's location
Region/County:[Lancaster]
State/Province:[Pennsylvania]
Creation Year (Single Year or Range Begin):
ca. 1800
Image Dimensions Width:
32.5 cm
ShelfMark:
FLP 119
Creator Name:
[Jacob Botz (active c. 1775-1790)] - Decorator
[Jacob Botz (active c. 1775-1790)] - Scrivener