New Year's Wish (Neujahrswunsch) for Barbara Gochnauer
Fraktur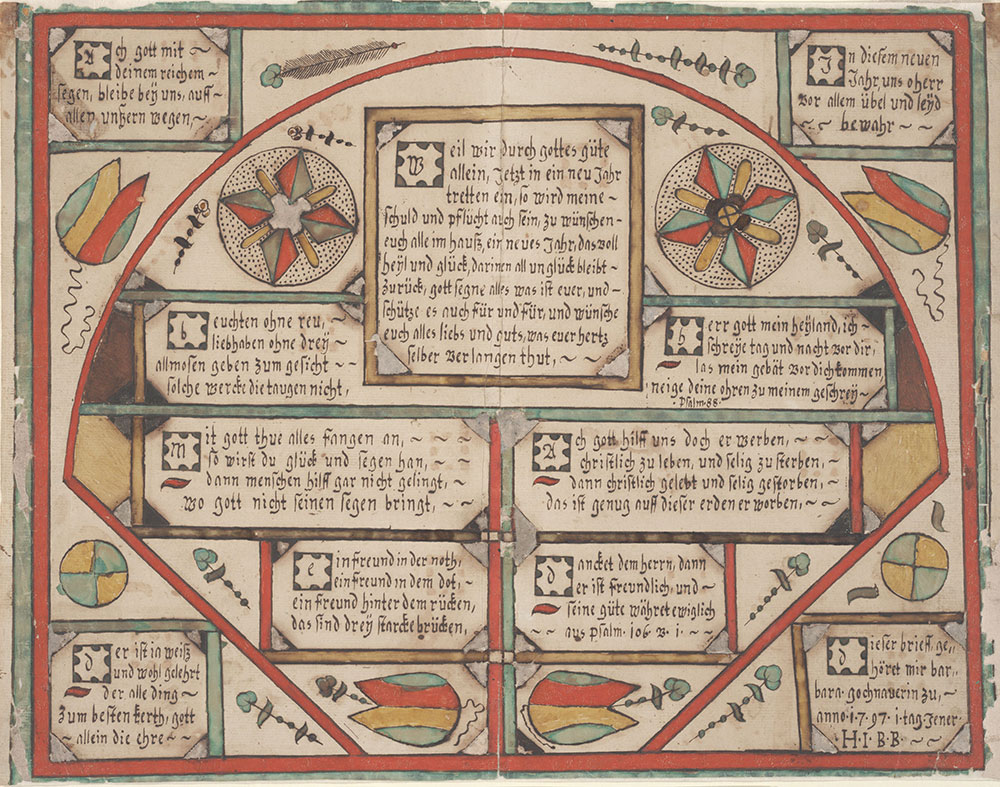 Item Info
Item No: frk01060
Title: New Year's Wish (Neujahrswunsch) for Barbara Gochnauer
Creation Date:
1/1/1797
Scripts/Text:
Fraktur
Language:
German
Weiser Number:
260
Physical Description:
Leaf
Material:
Laid paper; watercolor; ink
Transcription:
[in upper center
Weil wir durch gottes güte \ allein, Jetzt in ein neu Jahr \ tretten ein, so wird meine \ schuld und pflücht auch sein, zu wünschen \ euch alle im hauß, ein neues Jahr, das voll \ heyl und glück, darinen all unglück bleibt \ zurück, gott segne alles was ist euer, und \ schütze es auch für und für, und wünsche \ euch alles liebe und gute, was euer hertz \ selber verlangen thut.
[in frames in lower center, left to right]
beuchten ohne reu, \ liebhaben ohne drey \ allmosen geben zum gesicht \ solche wercke die taugen nicht,
Herr gott mein heyland, ich \ schreye tag und nacht vor dir, \ las mein gebät vor dich kommen, \ neige deine ohren zu meinem geschrey \ Psalm 88
Mit gott thue alles fangen an, \ so wirst du glück und segen han, \ dann menschen hilff gar nicht gelingt, \ wo gott nicht seinen segen bringt,
Ach gott hilff uns doch erwerben, \ christlich zu leben, und selig zu sterben, \ dann christlich gelebt und selig gestorben, \ das ist genug auff dieser erden erworben,
ein freund in der noth, \ ein freund in dem tod, \ ein freund hinter dem rücken, \ das sind drey starcke brücken,
dancket dem herrn, dann \ er ist freundlich, und \ seine güte währet ewiglich \ aus psalm 106. v. 1
[in upper left corner]
Ach gott mit \ deinem reichem \ segen, bleibe bey uns, auff \ allen unsern wegen,
[in upper right corner]
In diesem neuen \ Jahr, uns o herr \ vor allem übel und leyd \ bewahr
[in lower left corner]
der ist weiß \ und wohl gelehrt \ der alle ding \ zum besten kerth, gott \ allein die ehre
[in lower right corner]
dieser brieff, ge= \ höret mir bar= \ bara gochnauerin zu, \ anno 1797 1 tag Jener \ H. I. B. B.

Translation:
[in upper center]
Since through God's goodness alone we now enter into a new year, it is also my obligation and duty to wish all of you in the house a new year that is filled with health and fortune, from which all misfortune stays away. God bless all that is yours, and also protect it ever and ever, and I wish you everything lovely and good, whatever your heart itself desires.
[in frames in lower center, left to right]
Confession without remorse, to love without trust, to give alms to be seen, such works are worth nothing.
Lord God, my savior, I cry day and night for you. Let my prayer come before you, lower your ears to me cries. Psalm 88.
With God everything begins, so you will have fortune and blessings, for the help of man does not succeed where God does not bring his blessing.
O God, help us to be able to live like Christians and die blessedly. For to live like Christians and die blessedly, this is a sufficient accomplishment on earth.
A friend in need, a friend in death, a friend behind the back, these are three strong bridges.
Thank the Lord for he is good and his goodness lasts forever. Psalm 106, verse 1.
[in upper left corner]
O God, with your rich blessing remain with us on all our ways.
[in upper right corner]
In this new year, keep us, o Lord, from all evil and sorrow.
[in lower left corner]
He is wise and well-instructed, who turns everything into the best. God alone the glory.
[in lower right corner]
This letter belongs to me, Barbara Gochnauerin. Anno 1797, 1st day of January. H. I. B. B.

Category:
New Year's Wish (Neujahrswunsch)
Media Type:
Manuscripts
Source:
Rare Book Department
Notes:
Hand-drawn; hand-colored; hand-lettered. Eleven verses in Fraktur within rectangular frames are in the center and the four corners of the document. The frames in the center are enclosed within a fan-shaped border. On the sides and bottom are four tulips and two circles. In the upper area are two additional circles that enclose decorative geometric shapes. Several small stemmed flowers are next to the text frames. The entire document is framed by a border.
Associated Names:
Gochnauer, Barbara
Bibliography:
"Hans Jacob Brubacher" in Russell D. and Corinne P. Earnest, Papers for Birth Dayes: Guide to the Fraktur Artists and Scriveners (East Berlin, Pa.: Russell D. Earnest Associates, 1997), 2nd ed., vol. 1, pp. 132-134.
David R. Johnson, "Hans Jacob Brubacher, Fraktur Artist" in Pennsylvania Mennonite Heritage 9, no. 1 (January 1986): 11-17; published on p. 15.
Richard I. Barons, ed. The Folk Tradition: Early Arts and Crafts of the Susquehanna Valley (Binghampton, NY: Roberson Center, 1982); published as fig. 84.
Creation Place County:
Creation Place Note:Based on artist's location
Region/County:Lancaster
State/Province:Pennsylvania
Image Dimensions Width:
30.2 cm
ShelfMark:
FLP 1060
Creator Name:
Hans Jacob Brubacher (c. 1730-1802) - Decorator
Hans Jacob Brubacher (c. 1730-1802) - Scrivener