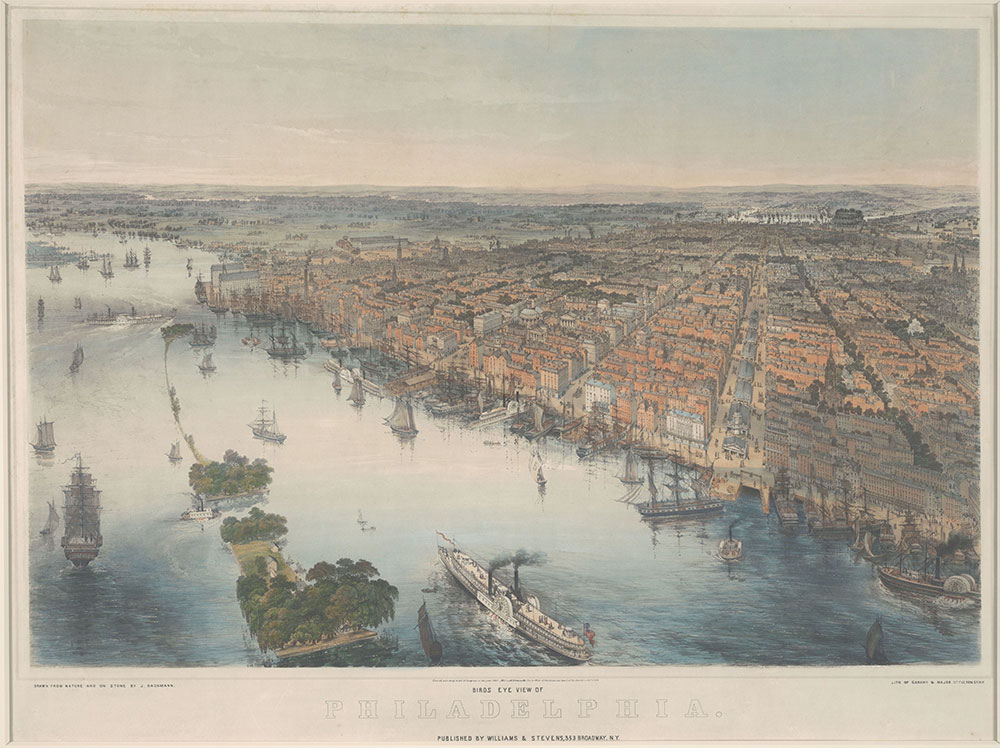 Item Info
Item No: AMER018501
Title: Bird's Eye View of Philadelphia Drawn from nature and on stone by J. Bachmann
Publication Year:
ca. 1850
Media Type:
Lithographs
Source:
Rare Book Department
Notes:
Lithograph with hand-coloring and white highlights created by scraping the paper surface.
Notes:
The bird's eye view perspective dates back to the early Renaissance with reference to its technique being made as far back as Roman times. In Europe, the bird's eye view print surged in popularity in the late eighteenth century and "balloon views" became popular in the 1830s and 1840s. Although the 19th century bird's eye co-existed with early photography and the hot air balloon, most of their designs were based on mathematical formulas and numerous sketches made on the ground. Thus a bird's eye view may be seen as a visual blend of fantasy and historical fact.
John Bachmann, a Swiss artist and lithographer, became one of the best bird's eye view artists of his day almost immediately after emigrating to America in the mid-nineteenth century. In 1850 and 1851 he embarked on a project to make lithographs of the major American cities, which included New York, Boston and Philadelphia. This lithograph portrays Philadelphia as a modern, industrial city with smoke stacks in the middle-ground and steam-paddle wheelers in the foreground. Inscribed on the paddle wheel on the bottom boat are the names "Hans Bachmann" and "Anna Esmann".
Bibliography:
Reps, John William. 1984. Views and viewmakers of urban America: lithographs of towns and cities in the United States and Canada, notes on the artists and publishers, and a union catalog of their work, 1825-1925. Columbia: University of Missouri Press.PP. 87-94.
Case, Nat. Autumn, 2008. John Bachmann and the American Bird's Eye View Print in Imprint: Journal of the American Historical Print Collectors Society 33. PP. 19-35.
Lane, Christopher W., and Donald H. Cresswell. 1990. Prints of Philadelphia: at the Philadelphia Print Shop, featuring the Wohl Collection. Philadelphia: Philadelphia Print Shop .P.83.
Creation Year (Single Year or Range Begin):
ca. 1850
Call Number:
Amer 1850
Creator Name:
Bachmann, John, artist. - Artist
William and Stevens - Printer/Publisher
Sarony & Major - Lithographer
View other associated items