Recipes and Recommendations for Pi Day!
By
Lindsay S.
Fri, March 12, 2021
by Breshay Woods — Culinary Literacy Center Intern

What better way to mark the one-year anniversary of life under a global pandemic than with a number that seems to go on forever and can just never seem to come to an end? That's right, we're talking about Pi!
Pi is the ratio of a circle's circumference to its diameter. No matter the size of the circle, this ratio remains constant. Pi is also an irrational number, meaning that it has no end after its decimal point and goes on forever with no repetition. While many mathematicians have calculated trillions of digits beyond the decimal point, today we simply round Pi to 3.14.
Every year on March 14 on Pi Day, the Culinary Literacy Center celebrates this very interesting number with a delicious dessert of the same name!
Here are five pie cookbooks available in our catalog for you to check out: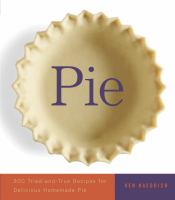 Pie: 300 Tried-and-True Recipes for Delicious Homemade Pie by Ken Haedrich
Dive into three hundred pie recipes that focus on American-inspired pie creations! This book provides a comprehensive guide to making pie at home and focuses on the ingredients, cooking utensils, oven temperatures, and how to make the perfect pie crust.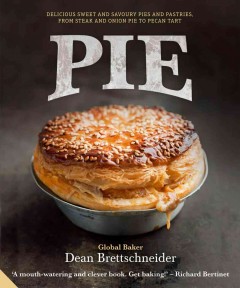 Pie: 80+ Pies and Pastry Delights by Dean Brettschneider
With more than 80 pie and pastry recipes, global baker Dean Brettschneider teaches readers how to make the perfect pie! This book has varying recipes for different occasions and different tastes. Whether you prefer savory or sweet, light or family-sized, this book is hailed as a baking bible for all!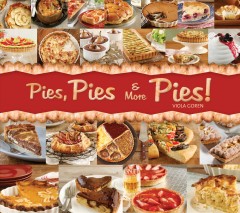 Pies, Pies & More Pies! by Viola Goren
If you are looking for a cookbook that is user-friendly for bakers at all levels, this is the one for you! Viola Goren details the process of making intricate and delicious variations of pies. The recipes include savory and sweet selections, accompanied by photographs to help focus on the details necessary for preparation. This book makes baking easy as pie!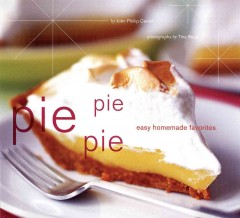 Pie Pie Pie: Easy Homemade Favorites by John Phillip Carroll
Pie lovers everywhere will enjoy this cookbook that focuses on the basics of pie-making. John Phillip Carroll explains methods that even inexperienced bakers can use to create classic pie favorites. He also manages to add some new flavor combinations that are sure to add flair to your dinner party!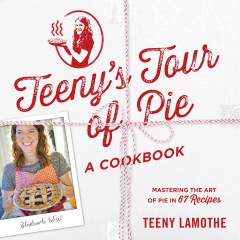 Teeny's Tour of Pie: Mastering the Art of Pie in 67 Recipes by Teeny Lamothe
Teeny Lamothe is a well-traveled baker that has been all over America to perfect the craft of pie. Through 67 recipes, she takes you on an adventure to explore many different types and flavors of pie. She also includes the methods of making her specialty 'teeny' pies that use a 5-inch pie pan. You are guaranteed to learn a lot about baking from this book!
---
Here's a sample recipe for a delicious fruit pie from John Phillip Carrol's Pie, Pie, Pie: Easy Homemade Favorites for more Pi Day holiday inspiration.
Blackberry Sour Cream Pie
Ingredients
Pie Crust
1 ½ cups graham and / or gingersnap crumbs
2 tablespoons sugar
Pinch salt
½ cup (1 stick) unsalted butter, melted

Sour Cream Custard
1 ½ cups sour cream
½ cup sugar
3 eggs
1 ½ teaspoons vanilla extract
pinch of salt

Blackberry Topping
½ cup sugar
½ cup water
2 cups fresh or frozen blackberries
1 tablespoon cornstarch
1 tablespoon water

Instructions
Crust
Preheat oven to 325 degrees.
Combine crumbs, sugar, and salt in a medium bowl; stir and toss with a fork.
Add butter and stir vigorously until blended and all crumbs are moistened. Alternately, you may combine ingredients in a food processor and whirl until blended.
With your fingers, press and pat the mixture over the bottom and sides of a 9-inch pan, building crumbs up just above the rim of the pan and being sure not to make the sides too thick. Spread uneven spots with the back of the spoon.
Before filling the crust, bake it for 8-10 minutes. Set aside to cool completely before filling.

Sour cream custard
Preheat oven to 325.
In a medium bowl, whisk together sour cream, sugar, eggs, vanilla, and salt until smooth.
Pour into the cooled pie shell and bake for 35-40 minutes, or until the custard is set and doesn't have a liquidy jiggle when the pan is moved.
Remove from the oven and cool to room temperature. If you want, refrigerate the pie for several hours at this point, before spreading the berries over the custard.

Berries
In a medium-sized saucepan, combine sugar and water and bring to a boil over medium-high heat, stirring until sugar dissolves.
Reduce heat to low and add berries. Cook gently for 5 minutes, stirring occasionally until berries soften and exude some juice.
In a small cup or bowl, stir cornstarch and water together until smooth, then add to the simmering berry mixture and boil gently for 1 minute, until slightly thickened.
Set aside to cool for 30 minutes, stirring occasionally.
Spoon berries over custard, spreading them all the way to the edge.
Refrigerate 2 hours or overnight if you wish, before serving.
Happy Pi(e) baking and eating!
Every year on March 14, the Culinary Literacy Center celebrates this very interesting number with a delicious dessert of the same name.
Pie lovers everywhere will enjoy this cookbook that focuses on the basics of pie-making
Check out the virtual programs being offered by the Culinary Literacy Center in our calendar of events
---
Have a question for Free Library staff? Please submit it to our Ask a Librarian page and receive a response within 72 hours.
Help readings understand what read your
Tuesday, March 15, 2022
---