Women's History Month | Ruth Wakefield and the Toll House Cookie Empire
By
Naquawna L.
Tue, March 30, 2021
Ruth Jones Graves, a dietitian, educator, author, and business owner, was born on June 17, 1903, in East Walpole, Massachusetts. She is credited with inventing the very first chocolate chip cookie, which began as Toll House Cookies.
Educated at Framingham State Normal School, now known as Framingham State University, Graves gained an associate's degree in Household Arts. What is Household Arts, might you ask? In the early 1900s, Household Arts was an educational discipline that can be compared to today's Culinary Arts curriculum. Mainly, it consisted of food science, cooking, food preservation, and dietetics. After completing her degree in 1924, Graves became a Home Economics teacher at a local high school, until she married her husband, Kenneth Wakefield, in 1928.
Preceding her marriage, Ruth and her husband opened a tourist lodge, The Tollhouse Inn, in Whitman, Massachusetts, during 1930. Though the economy had a substantial decline, Ruth and her husband quit their jobs to follow their dreams of creating a food establishment that served exceptional food at reasonable prices. Utilizing the skills she acquired from Framingham, Ruth created, prepared, and served all of the meals for the Inn, gaining local popularity for her lobster dinners and desserts. Some resources suggest the cookies were created in 1938, when Ruth realized she was out of baker's chocolate and substituted broken pieces of Nestle's semi-sweet chocolate, assuming it would melt into the batter as it baked. The chocolate didn't melt, creating the world's first chocolate chip cookie.
By Ruth's account, she deliberately invented the cookie. She stated, "We had been serving a thin butterscotch nut cookie with ice cream. Everybody seemed to love it, but I was trying to give them something different. So I came up with a Toll House cookie.", hence, the cookie's original name: Toll House Chocolate Crunch Cookie. Ruth's invention quickly gained local fame which led to her nationally acclaimed book, Toll House Tried and True Recipes, which has been published almost forty times since 1938. Obviously, without Ruth's love of food, we would not have one of the most beloved drop cookies of all time or any of its variations.
During Women's History Month, we celebrate Ruth, honor her contributions to the culinary world, and the legacy she left to women chefs throughout the world.
If you would like to try Ruth's original Toll House Cookie Crunch recipe, it's listed below.
Toll House Cookie Crunch Recipe
Total Time: 45 minutes
Hands-On Time: 30 minutes
Yield: 2 to 3 dozen

Ingredients
1 cup unsalted butter, plus more for baking sheets
¾ cup firmly packed light-brown sugar
¾ cup granulated sugar
2 large eggs, beaten
1 teaspoon baking soda dissolved into 1 teaspoon hot water
2 ¼ cups sifted all-purpose flour
1 teaspoon table salt
1 cup chopped nuts (optional)
12 ounces (2 cups) semisweet chocolate chips
1 teaspoon vanilla extract

Instructions
Preheat your oven to 375°.
Cream the butter and sugars. Add the beaten eggs. Add the baking soda dissolved in hot water.
Sift together the flour and salt and add to the butter mixture. Then stir in the nuts, chocolate chips, and vanilla.
Chill the dough in the refrigerator for at least 1 hour and up to 3 days.
Drop by the tablespoonful onto lightly greased cookie sheets and bake until browned at the edges for 10 to 12 minutes.

Notes
The best nuts to use are pecans, walnuts, or almonds.
If you have an egg or nut allergy, eggs can be substituted with an egg substitute and nuts can be omitted.
If you would like to keep the dough for longer than 3 days, double wrap the dough in plastic wrap, then place the dough in an airtight container or freezer bag and freeze for up to 3 months.
Warning: Please do not consume this dough raw, as it can cause you to become ill. Raw and undercooked eggs may contain Salmonella, a type of harmful bacteria. This bacteria can be found on egg shells but also inside eggs. Consuming contaminated eggs can cause food poisoning.
The Free Library has tons of resources about cookies you can read about with the children in your life or use to make your own yummy cookies. Likewise, if you would like to learn more about women chefs take a look at Chef's Story by Dorothy Hamilton.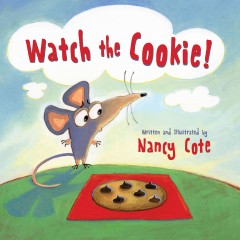 Watch the Cookie! by Nancy Cote
Sam and Mousey are best friends, and Mousey is always looking up to Sam and following his lead. They do everything together and share everything, too. So when Sam surprises Mousey with a big chocolate chip cookie, they can't wait to split it. Unfortunately, Sam really has to go and he has to go NOW! "Watch the cookie. I'll be right back," he tells Mousey. Mousey diligently watches the cookie, but it turns out that he isn't the only one. Pigeons come pecking and ants come marching. Mousey does his best to shoo them away, but it's only when he yells in his loudest voice that he can scare them off. Just when Mousey thinks he has saved the cookie, a hungry cat appears—and this cat isn't hungry for a cookie...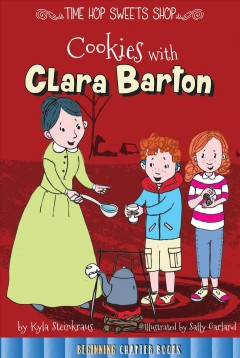 Cookies with Clara Barton by Kyla Steinkraus
Fiona and Finley bake up a storm in their parent's Sweet Shop, but nothing's sweeter than the magic that happens when their parrot, Tick Tock, squawks: Look at the time! That means a special customer has arrived, and a new adventure is set to begin. Each title features a notable figure from US history, who takes the siblings along for an adventure, and tells them a bit about him or herself in the process.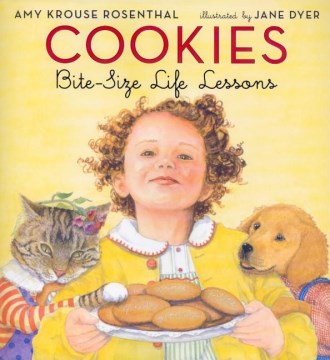 Cookies: Bite-Size Life Lessons by Amy Krouse Rosenthal
Everyone knows cookies taste good, but these cookies also have something good to say. Open this delectable book to any page and you will find out something about life. This book is by turns clever, honest, inspirational, and whimsical. Go ahead, take a bite!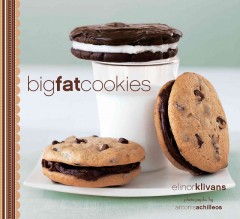 Big Fat Cookies by Elinor Klivans
Nobody's ever made baking history with a scrawny cookie. No matter what the occasion, nothing beats a big, fat, homemade cookie! With this deliciously fun cookbook and a few simple ingredients, anyone can whip up a quick batch of one of 50 different gigantic, crispy, chewy, or fancy-pants sandwich cookies. From classic Super Chocolate Chip to colossal Mocha Mud Mountains, Jumbo Coconut Macaroons to Lemon Whoopie Pies, this is total cookie satisfaction. Introductory material includes tips on buying the best ingredients, techniques such as mixing and forming the perfect round, baking ahead and storing, and for those who actually like to share their cookie show to pack them up safely so they won't break on the way to the party. So, get that sweet tooth ready and bite into a Big Fat Cookie.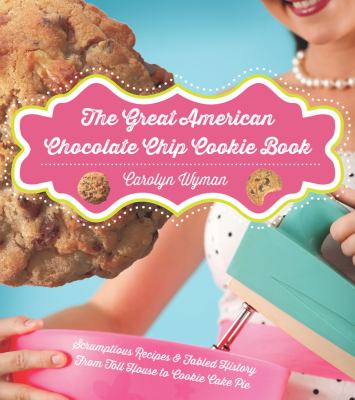 The Great American Chocolate Chip Cookie Book by Carolyn Wyman
A history, guidebook, and cookbook showcasing the chocolate chip cookie! Wyman tells the true story of the cookie's invention; provides a state-by-state survey of bakeries and restaurants known for their chocolate chip cookie creations; and provides recipes for sour cream, pudding, kosher, vegan, and gluten-free cookies, as well as tips for taking your recipe to the next level.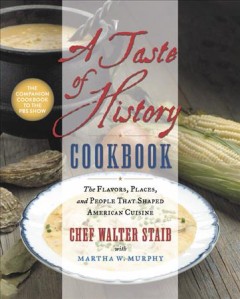 A Taste of History Cookbook: the Flavors, Places, and People That Shaped American Cuisine by Walter Staib
The delicious, informative, and entertaining cookbook tie-in to PBS's Emmy Award-winning series A Taste of History. Featuring over 150 elegant and approachable recipes featured in the Taste of History television series, paired with elegantly styled food photography, readers will want to recreate these dishes in their modern-day kitchens. Woven throughout the recipes are fascinating history lessons that introduce the people, places, and events that shaped our unique American democracy and cuisine.
What is your favorite cookie to eat? Let us know in the comments!
---
Have a question for Free Library staff? Please submit it to our Ask a Librarian page and receive a response within 72 hours.