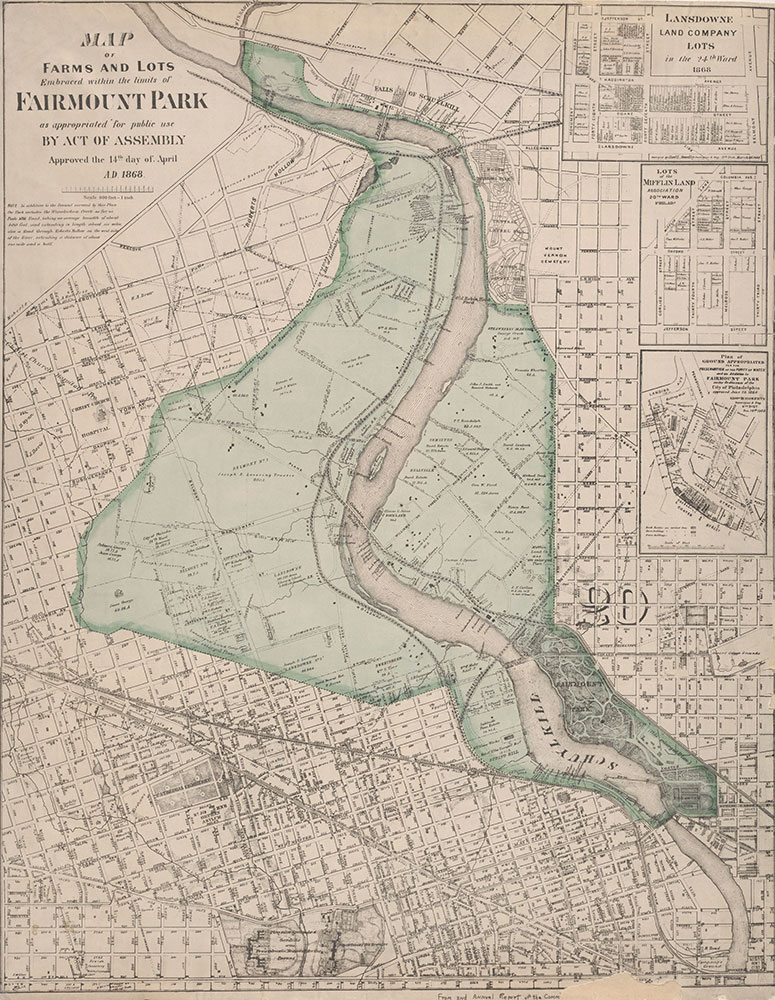 Item Info
Item No: MFMPAA00001
Title: Maps of Farms and Lots Embraced Within the Limits of Fairmount Park, 1868, Map
Additional Title: Maps of Farms and Lots Embraced Within the Limits of Fairmount Park, 1868
Publication Year:
1870
Page:
1
Work Type:
Park Maps
Source:
Map Collection
Notes:
Avenue Drove Yard: northeast corner 44th and Westminster Streets
Avenue Drove Yard Hotel: northeast corner 44th & Westminster Streets
Belmont Petroleum Co.: west side Schuylkill River above Montgomery Avenue
Christ Church Hospital: Dauphin to Cumberland Streets between 48th & 50th Streets
Hestonville, Fairmount & Mantua Railroad Station: 52nd Street and Lancaster Avenue
Hunter's Calico Print Works: northwest corner 55th & Paschall Streets
Hunter's Mill: Mill Creek at 55th Street
Kershaw's Factory: Mill Creek below Girard Avenue
Knickerbocker Ice Co.: east side Schuylkill River below Columbia Bridge
Monroe Engine House: 51st Street & Lancaster Avenue in Hestonville
Moore's Grist Mill: Peach & Pear Streets in Hestonville
Oddfellows Hall: Ridge Road in Falls of Schuylkill
Pennsylvania Hospital For the Insane: north side Market Street between Chestnut Ave. & 49th St.
Powers & Weightman Chemical Works: Ridge Road in Falls of Schuylkill
St. John's Orphan Asylum: south side Wyalusing Street at 49th Street
Yewdell's Factory: northeast corner 55th Street & Girard Avenue
Notes:
From the 2nd Annual Report of the Commissioners of Fairmount Park, issued January 29th, 1870. Includes three inset maps: 1. Lansdowne Land Company Lots in the 24th Ward, 1868 by Samuel Smedley; 2. Lots of the Mifflin Land Association, 20th Ward; 3. Plan of Ground Appropriated For the Preservation of the Purity of Water and an Addition to Fairmount Park Under Ordinance of the City of philadelphia, Approved June 28, 1864 by Edward D. Roberts.
Northside Orientation of Image:
Top
Alternate Page Number:
Map
City/Town/Township:
Geographic Coverage State/Province:Pennsylvania
Geographic Coverage City/Town/Township:Philadelphia
Geographic Coverage Note:Fairmount Park
Creator Name:
Fairmount Park Commission (Philadelphia, Pa.) - Publisher