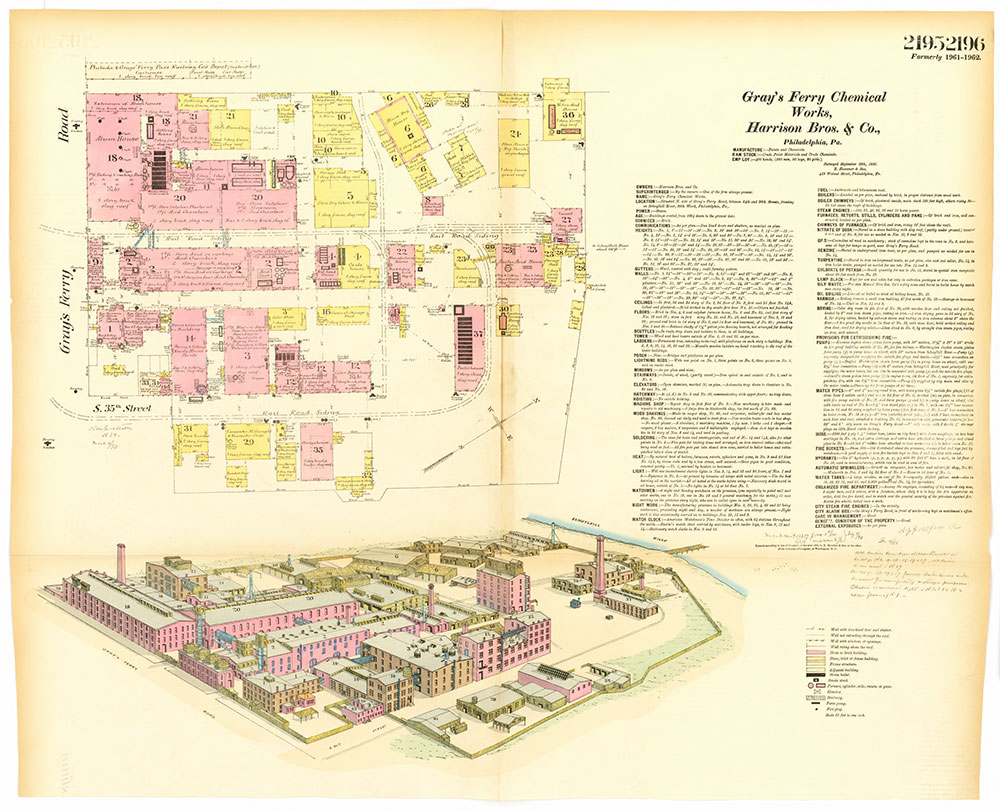 Item Info
Item No: MHGSAX00032
Title: Hexamer General Surveys, Volume 23, Plates 2195-2196
Additional Title: Hexamer General Surveys, Volume 23
Publication Year:
9/19/1888
Page:
2195
Street Address:
Grays Ferry Rd (north side), 34th St and 36th St
Street Address:
Gray's Ferry Rd. (north side) between Thirty-fourth St. and Thirty-sixth St., footing Schuylkill River
Work Type:
Industrial Site Surveys
Source:
Map Collection
Notes:
Covers Plates: 2195 - 2196
Notes:
Facility Name: Gray's Ferry Chemical Works, Harrison Brothers and Co.
Owner: Harrison Brothers & Co.
Products:
Chemicals-Paint
Chemicals-Misc
Notes:
Other Plates: 162, 631, 1206-07, 1483-84, 1767-68, 1961-62, 2195-96, 2445-47, 2777-78
Notes:
View From: S
Notes:
Ward: 26
Northside Orientation of Image:
North
Alternate Page Number:
Plates 2195-2196
City/Town/Township:
Geographic Coverage Ward:26th ward
Geographic Coverage State/Province:Pennsylvania
Geographic Coverage City/Town/Township:Philadelphia
Geographic Coverage Note:Schuylkill River
Geographic Coverage Neighborhood:South Philadelphia
Geographic Coverage Region/County:Philadelphia
Creator Name:
Ernest Hexamer