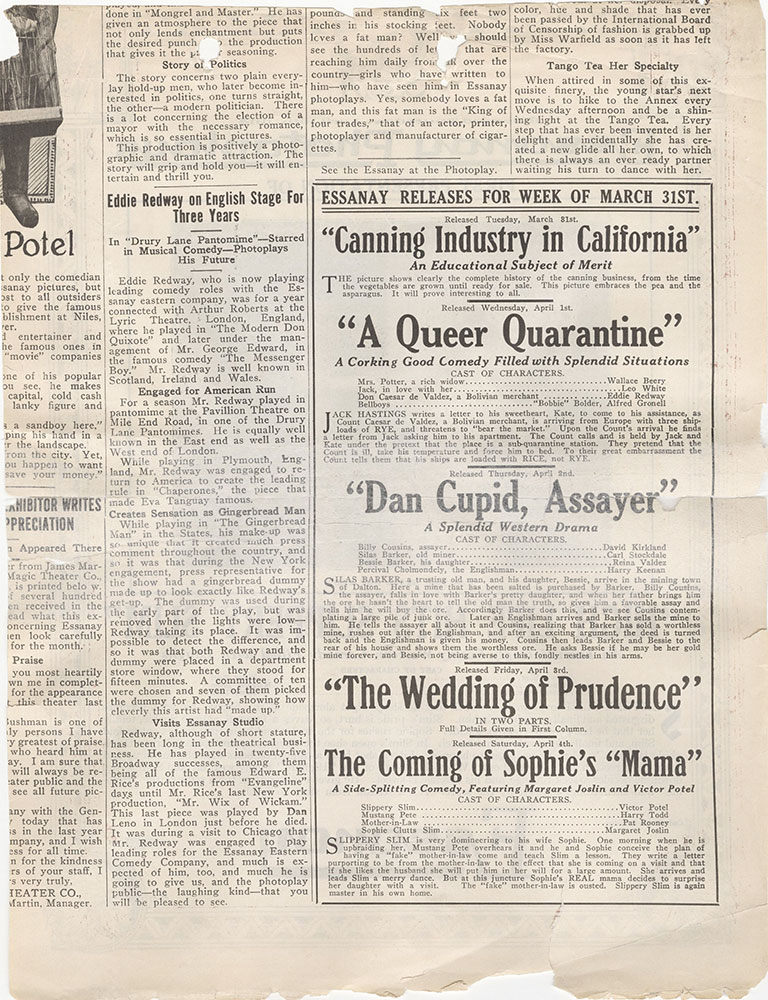 Item Info
Item No: thce01222v
Title: Fragment of Essanay News
Creation Date:
4/16/1914
Media Type:
Advertisements
Source:
Theatre Collection
Notes:
"Eddie Redway on English Stage for Three Years" article.
Essanay Released for Week of March 31st:
"Canning Industry in California" Released Tuesday, March 31st.
"A Queer Quarantine" Released Wednesday, April 1st. Cast: Wallace Beery as Mrs. Potter, a rich widow; Leo White as Jack, in love with her; Eddie Redway as Don Caesar de Valdez, a Bolivian merchant; "Bobbie" Bolder and Alfred Gronell as Bellboys.
"Dan Cupid, Assayer" Released Thursday, April 2nd. Cast: David Kirkland as Billy Cousins, assayer; Carl Stockdale as Silas Barker, old miner; Reina Valdez as Bessie Barker, his daughter; Harry Keenan as Percival Cholmondely, the Englishman.
"The Wedding of Prudence" Released Friday, April 3rd.
"The Coming of Sophie's 'Mama'" Released Saturday, April 4th. Cast: Victor Potel as Slippery Slim, Harry Todd as Mustang Pete, Pat Rooney as Mother-in-law, Margaret Joslin as Sophie Clutts Slim.
Call Number:
Essanay Group 3 Box 8