A View of Part of the Town of Boston In New England and Brittish Ships of War Landing Their Troops! 1768.
From Our Collections
Elkins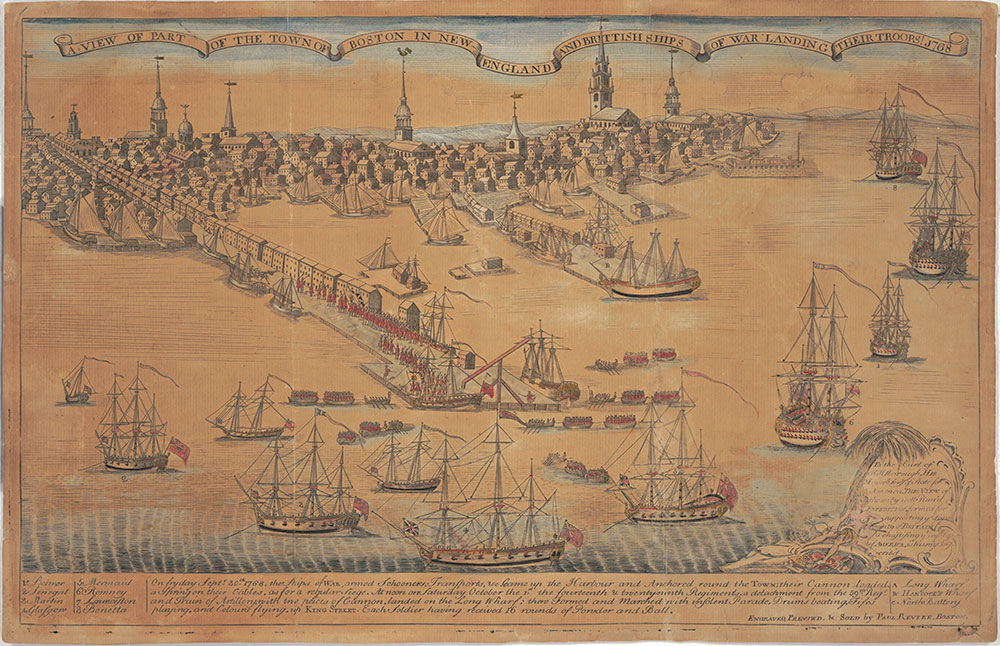 Item Info
Item No: ELK0017681
Title: A View of Part of the Town of Boston In New England and Brittish Ships of War Landing Their Troops! 1768.
Publication Year:
ca. 1768
Media Type:
Copperplate Engravings
Source:
Rare Book Department
Notes:
The engraving is considered to be among the largest and rarest of Paul Revere's prints. On September 30, 1768 the British Navy descended upon Boston Harbor in an attempt to subdue Bostonians who were enraged over a series of taxation duties levied upon them by the British Parliament.

Inscribed in the lower right of the engraving is Revere's dedication to the Earl of Hillsborough, then Secretary of the Colonies, who ordered British troops into Boston to quell the growing American resistance. Revere's brilliant sarcastic dedication states that the view is the only well Plan'd expedition, formed for supporting ye dignity of Britain & chastising ye insolence of America is hum'y Inscribed, the assumption being that other British expeditions are poorly planned. In the inscription below the view Revere offers a more obvious critique of the British by describing their descent upon Boston as marching into town with insolent parade.

Revere's textual critique of the British is reinforced by the engraving's imagery. Next to the cartouche in the lower right-hand corner is a figure of an American Indian princess, which is meant to represent America. Her foot is on the chest of a British soldier with the Roman numerals "XXIX," a reference to the 29th Regiment that was responsible (along with the 14th regiment) for the Boston Massacre.

It is argued that Christian Remick (1726- ) a Massachusetts watercolor painter, designed and drew this view of Boston. By copying Remick's drawing of the view, Revere was able to print and publish the engraving shortly after the success of his Bloody Massacre engraving, allowing him to capitalize on its popularity and on escalating anti-British tensions among colonialists.

Paul Revere made his living as an engraver and silversmith. He was also a member of the Sons of Liberty, a militant organization that fought for the rights of Americans and against the abuses of the British government Revere was particularly resourceful in adapting the engravings of other artists for his own use. This allowed him to report on events soon after they occurred, which enabled him to sell more prints and to advance the call for American independence among colonialists at the same time.
Notes:
There are two known states for this print. The Free Library's copy is the first state copy as identified by "On fryday Septr 30" as opposed to the more common "On friday Septr 30."
Bibliography:
New York Public Library, I. N. Phelps Stokes, and Daniel C. Haskell. 1933. American historical prints: early views of American cities, etc. from the Phelps Stokes and other collections. New York: New York Public Library.P. 23.

Stauffer, David McNeely, and Joseph Pennell. 1907. American engravers upon copper and steel. New York: Grolier Club of the City of New York. P 441.. Stauffer #2676.

Shadwell, Wendy J. 1971. American printmaking: the first 150 years. Milano: Amilcar Pizzi. P.26.

American Antiquarian Society, and Clarence S. Brigham. 1969. Paul Revere's engravings. New York: Atheneum. PP. 79-85.
City/Town/Township:
City/Town/Township:Boston
Creation Year (Single Year or Range Begin):
ca. 1768
Call Number:
Elkengravings
Creator Name:
Revere, Paul, 1735-1818 - Engraver
Revere, Paul, 1735-1818 - Printer/Publisher
Remick, Christian, 1726- - Artist