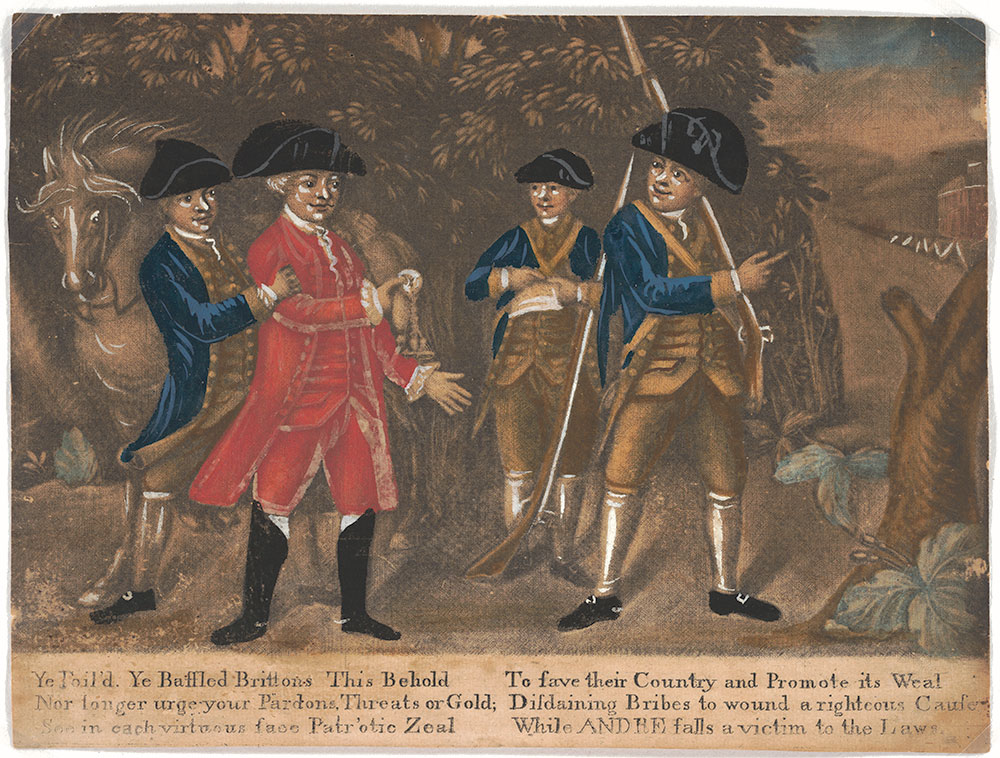 Item Info
Item No: ELK0017801
Title: Ye Foil'd, Ye Baffled Brittons.
Additional Title: The Capture of Major André
Media Type:
Copperplate Engravings
Source:
Rare Book Department
Notes:
Major John André (1751-1780) was a highly regarded British officer. He was also the sole intermediary between the British and General Benedict Arnold and was eventually hanged as a spy for his role in attempting to turn over the American fortress at West Point to the British.

André is depicted in a red coat surrounded by three militiamen in blue who are about to arrest him. The soldiers appear to have incredulous smiles on their faces as they appear to laugh off Andre's attempt to bribe them into letting him free. The text below underscores the idea that Americans cannot be bought and are impervious to British corruption:

Ye Foile'd Baffled Brittons. This Behold
Nor Longer urge your Pardons, Threats or Gold;
See in each virtuous Patri'otic Zeal
To save their Country and Promote its Weal
Disdaining Bribes to wound a righteous Cause
While ANDRE falls a victim to the Laws.

A similar copy of this mezzotint in the Winterthur Museum has been attributed by Nina Fletcher Little to Samuel Blyth (1744-1795) a Salem heraldic engraver and pastelist, and brother of Benjamin Byth (1746-1787?).
Bibliography:
Henry Francis du Pont Winterthur Museum, and E. McSherry Fowble. 1987. Two centuries of prints in America, 1680-1880: a selective catalogue of the Winterthur Museum collection. Charlottesville: Published for the Henry Francis du Pont Winterthur Museum by the University Press of Virginia. P. 438.

Winterthur, "Winterthur Museum Collection." Last modified August 08, 2013. Accessed August 14, 2013. http://museumcollection.winterthur.org/single-record.php?resultsperpage=60&view=catalog&srchtype=advanced&hasImage=&ObjObjectName=&CreOrigin=&Earliest=1750&Latest=1805&CreCreatorLocal_tab=&materialsearch=&ObjObjectID=&ObjCategory=Prints&DesMaterial_tab=&DesTechnique_tab=&AccCreditLineLocal=&CreMarkSignature=&recid=1957.1265 A&srchfld=&srchtxt=&id=854a&rownum=61&version=100&src=results-imagelink-only
Call Number:
Elkengravings
Creator Name:
Blyth, Samuel, 1744-1795 - Engraver