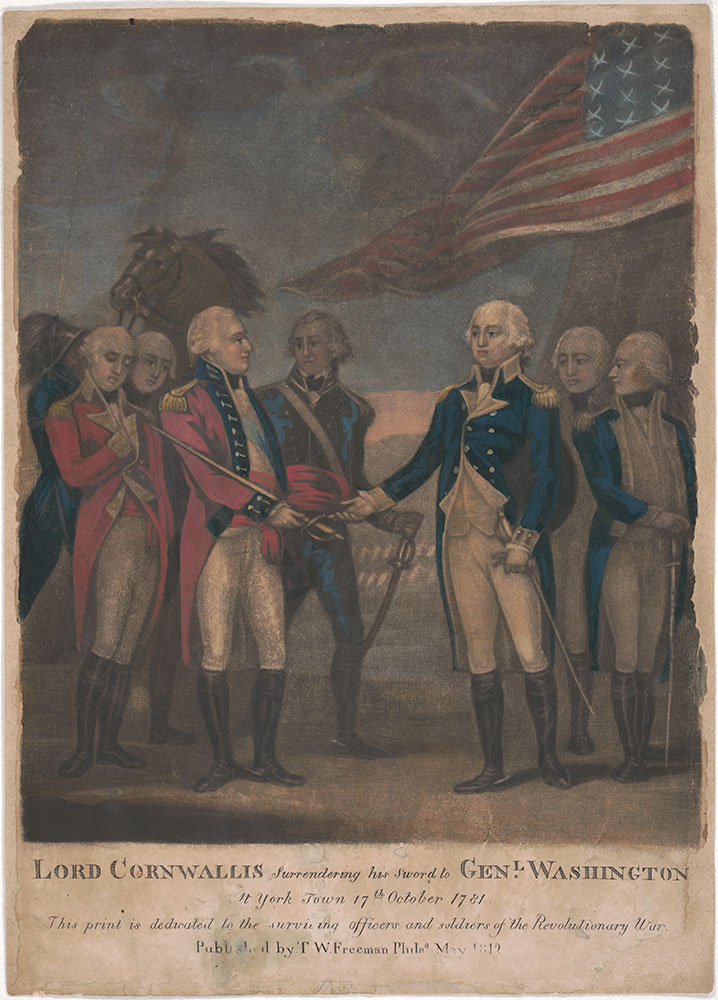 Item Info
Item No: ELK0018121
Title: Lord Cornwallis Surrendering his Sword to Genl. Washington
Additional Title: Lord Cornwallis Surrendering his Lord Cornwallis Surrendering his sword to Gen. Washington│At York Town 17th October 1781. │This print is dedicated to the surviving officers and soldiers of the Revolutionary War. │Published by T.W.Freeman Phila May 1812.
Publication Year:
ca. 1812
Media Type:
Copperplate Engravings
Source:
Rare Book Department
Notes:
Depicted here is Lord Charles Cornwallis surrendering his sword (the official final act of surrender) to General Washington. In failing to obtain the back-up support needed to protect his army from being besieged by French and American forces, Lord Cornwallis had no other choice but to surrender his British Army on October 19, 1781 in the Virginia port of Yorktown. Less than a year later Britain recognized American Independence and began negotiations for a formal peace settlement with America. This resulted in the Treaty of Paris of September 1783, which formally recognized American Independence after eight years of war.

This mezzotint may be attributed to the engraver, George Graham, who was active from 1786 to 1813. Little is known about him other than he was located in Philadelphia in 1797 and worked for publishers in New York in 1804. Graham engraved portraits of many of the most notable men of his time, including Alexander Hamilton, Chancellor Robert R. Livingston, Samuel Adams and John Adams.
Bibliography:
Holden, Edwin Babcock. 1910. Catalogue of the very important collection of rare Americana and fine engravings formed by the late Edwin Babcock Holden to be sold ... April 21, 1910 ... at the American Art Galleries. New York: T.E. Kirbyl #1089.

Stauffer, David McNeely, and Joseph Pennell. 1907. American engravers upon copper and steel. Volume 1. New York: Grolier Club of the City of New York. P.109.

"Early American Engraved Portraits: An Exhibition at the New York Public Library." The American Magazine of Art. no. 11 (1916): 452-457. http://www.jstor.org/stable/20559519 (accessed August 6, 2013).
Country:
Country:[USA]
City/Town/Township:Philadelphia
State/Province:[Pennsylvania]
Call Number:
Elkengravings
Creator Name:
T.W.Freeman - Publisher
Graham, George - Engraver